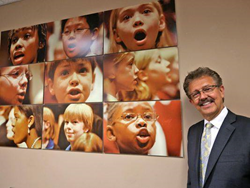 "It is with a great sense of pride and accomplishment that I look back on 30 years of young people making beautiful music, traveling the world and changing lives."
Indianapolis, Ind. (PRWEB) September 30, 2015
Henry Leck, the founder and artistic director of the Indianapolis Children's Choir (ICC) – one of Indianapolis' most recognizable and impressive music education organizations – has announced his retirement, effective at the end of this, the ICC's 30th anniversary season. At the end of the season, Mr. Leck will pass leadership of the ICC to Assistant Artistic Director Joshua Pedde.
The season, which kicks off in September 2015, will be a farewell and a celebration of the impact Mr. Leck – who announced his retirement in July – and the ICC have had on countless young musicians and the choral community at large, as well as the Indianapolis community.
"It is with a great sense of pride and accomplishment that I look back on 30 years of young people making beautiful music, traveling the world and changing lives," Mr. Leck says.
Over its 30 years, the ICC has grown from two small choirs to one of the largest choral organizations of its kind, with nearly 20 choirs and many music classes serving over 3,000 young people from ages 18 months to 18 years. The ICC impacts an additional 2,000 children through its Innovations program, which directly supports music in our schools.
ICC singers have traveled to and performed on six continents and have performed in some of the world's most recognizable venues and events, including Lincoln Center, Kennedy Center, Sydney Opera House, Carnegie Hall, the Super Bowl, the NCAA Women's Final Four, the FINA World Swimming Championships and mass at the Vatican.
"What started as a dream to create a small children's choir in 1986 has become one of the largest and most successful children's choir programs in the country," says Mr. Leck. "This has been done with a team of incredible teachers and staff, talented students, devoted parents, a dedicated board of directors and a supportive community."
According to ICC Executive Director Don Steffy, "The ICC is thrilled to celebrate the impact of Henry Leck on young musicians in Indianapolis and the choral world at large. We are grateful for this time to reflect on his contributions."
Season tickets are on sale now at icchoir.org/30tix.
The ICC's 30th season performance schedule and concert descriptions are as follows:
Music of the Night
Friday, October 30, 2015 | 7pm
Broadway United Methodist Church
Hear spooky songs in this family-friendly Halloween concert. It is truly an ICC experience like no other!
Sweet Melodies, featuring the Gloria by Francis Poulenc
Sunday, November 1, 2015 | 7pm
Saints Peter and Paul Cathedral
The ICC is joined by special guests the New World Youth Orchestra for an evening of artistic collaboration. In the acoustic splendor of Sts. Peter and Paul Cathedral you will hear one of our many advanced choirs singing with orchestra.
Angels Sing
Friday and Saturday, December 18 and 19 | 7pm
St. Luke's United Methodist Church
Become a part of the ICC family as you hear angelic voices sing seasonal music in this Indianapolis holiday tradition!
Celebrate the Season
Saturday, December 19, 2015 | 12:30pm
St. Luke's United Methodist Church
Join the ICC's younger ensembles and regional choirs for a fun matinee concert full of holiday favorites!
Sounds of the Season
Saturday, December 19, 2015 | 3pm
St. Luke's United Methodist Church
An afternoon of music that will envelop you in the spirit of the holiday season!
Tapestry of Song
Sunday, March 13, 2016 | 3pm
Hilbert Circle Theatre
Younger voices present a concert of selections from past tours and look forward to tours of future years. Alumni share experiences from their time in the ICC and how the ICC has shaped who they are today.
Voices of Youth
Sunday, March 13, 2016 | 7pm
Hilbert Circle Theatre
Enjoy the memories of past tours as the ICC performs songs from countries visited over the last 30 years. Hear ICC alumni share nostalgic stories about their favorite tour memories.
30th Anniversary Concert
Saturday, April 30, 2016 | 3pm and 7pm
Clowes Memorial Hall
The ICC commemorates 30 years of excellence in artistry and music education, as Founder and Artistic Director Henry Leck "passes the baton" to Assistant Artistic Director Joshua Pedde. In celebration of this momentous occasion, all the ICC's performance choirs and preparatory programs will make an appearance. Every piece in the concert will be the premiere of a newly-written work honoring the ICC. The concert will feature the world premiere of a major piece composed by Dan Forrest for the ICC, with the Chicago Arts Orchestra - Javier José Mendoza, artistic director.
Choral Festival
Saturday, June 19, 2016 | 7pm
Pike Performing Arts Center
An incredible concert that showcases both older and younger singers of the ICC. Hundreds of new campers, singing songs they mastered in just five days, share the stage with several hundred more ICC singers. Simply amazing!
About the ICC:
Currently celebrating its 30th season, the Indianapolis Children's Choir has grown to become one of the largest children's choirs in the world. Founded by Artistic Director Henry Leck, the ICC serves more than 5,000 Central Indiana children from pre-school age through high school. The Indianapolis Children's Choir nurtures and inspires student achievement through quality music education and the pursuit of artistic excellence in choral music performance. For more information, visit icchoir.org.
###