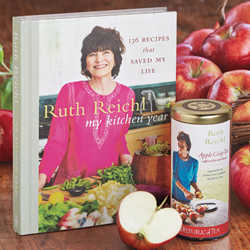 Novato, Calif. (PRWEB) September 29, 2015
The Republic of Tea, leading purveyor of premium teas, today announces the launch of its new herbal Apple Crisp Tea in partnership with culinary icon Ruth Reichl. Inspired by Reichl's Apple Crisp recipe in her beautiful new cookbook, My Kitchen Year: 136 Recipes That Saved My Life, the tea was unveiled at Specialty Food's Summer Fancy Food Show on June 28.
Reichl's apple crisp recipe is a dish that reminds her of her father and evokes happy memories. Similarly, The Republic of Tea's Apple Crisp Tea will delight Citizens with its warm flavors of cinnamon and vanilla while showcasing the apple in all its glory.
Best known for her role as editor in chief of Gourmet magazine, Reichl is also a successful restaurateur, restaurant critic, award-winning author, featured lecturer, television personality, and six-time James Beard award-winner. My Kitchen Year captures her emotional healing after the abrupt closing of her beloved Gourmet. Each dish Reichl prepares, over the course of this challenging year, becomes a stepping-stone to finding joy again in ordinary things.
"The Apple Crisp Tea was created to celebrate the journey found in opening our senses to embrace the world around us, particularly in the kitchen. We aimed to capture the flavors behind one of Ruth's favorite dishes with this new blend," says Kristina Richens, Minister of Commerce for The Republic of Tea. "We're excited to share this opportuniTEA with Ruth to delight and enrich Citizens with the delicious Apple Crisp Tea, inspired by her wonderful new book."
My Kitchen Year Apple Crisp Tea will be available for purchase September 29. The full line of offerings from The Republic of Tea is available nationwide at natural and specialty food stores, cafes and through the company website (http://www.REPUBLICofTEA.com), mail-order catalogue and by calling, 800.298.4TEA (832).
###
About The Republic of Tea:
The Republic of Tea enriches people's lives through its premium teas, education and innovation, as it emphasizes a "Sip by Sip Rather Than Gulp by Gulp" lifestyle. Founded in 1992, The Republic of Tea sparked a specialty tea revolution. Today the brand offers an unequaled selection of the highest-quality teas, herbal blends, books and nature-inspired sip ware, available exclusively at specialty retailers throughout the U.S. Further, The Republic of Tea is mindful of how its actions impact the greater community and actively supports worthy organizations like Action Against Hunger, The Ethical Tea Partnership, The Prostate Cancer Foundation, Xerces Society and The Whole Planet Foundation. Certifications include Demeter USA Certified Biodynamic, Fair Trade certification, Gluten-Free certification, Non-GMO Project verification, OU Kosher certification, Rainforest Alliance certification and USDA Organic certification. For more information, please visit http://www.REPUBLICofTEA.com or call 1.800.298.4832. Follow The Republic of Tea on Twitter at twitter.com/republicoftea and Like us on Facebook at http://www.facebook.com/RepublicofTea.
Contact Information:
Claire Storrs, Minister of Enlightenment, claire(at)republicoftea.com
5 Hamilton Landing, Suite 100, Novato, CA 94949 ~ Tel 415.382.3400 ~ Fax 415.382.3401 ~ http://www.REPUBLICofTEA.com