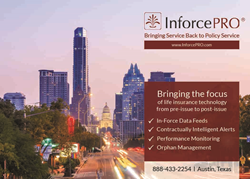 As the first institutional investor in several companies that have created billions of dollars in value, we've long believed in the power of a strong team focused on solving long overlooked problems resulting in disruption
Austin, Texas (PRWEB) September 29, 2015
InforcePRO®, the leading in-force life insurance technology platform, announced today that it has closed a $4M venture capital round, bringing it's total capital raised to over $5M. The company launched its U.S product from it's Austin headquarters in 2014 and has grown to over 25 staff and thousands of corporate customers in under a year. Led by Founders Cameron Jacox and Karan Kanodia, InforcePRO® is focused on further innovations around post-issue insurance and putting Policyholders First™.
"This financing will help enable us to grow our team by roughly 400% over the next 24 months to more effectively capitalize on the booming demand for our insurance policy monitoring software, allowing us to help more than 600 million global policyholders' identify contract options, performance changes, and suitability" says Cameron Jacox, Cofounder at InforcePRO®.
"Putting 'policyholders first' is a tectonic shift for an industry which was traditionally built on a "gotcha" mindset, i.e. the terse 30 day notice to policyholders, and we are excited to be leading this much needed change to ensure the industry's ongoing relevance to an increasingly aware consumer" says Karan Kanodia Cofounder at InforcePRO®.
InforcePRO® is a web-based policy-monitoring tool that delivers increased revenue and enhanced protection from liability on orphan as well as active books of life insurance business for Carriers and Distributors, while dramatically improving policyholder service.
"As the first institutional investor in several companies that have created billions of dollars in value, we've long believed in the power of a strong team focused on solving long overlooked problems resulting in disruption of large and established industries. The remarkable adoption of InforcePro's solution clearly demonstrates their leadership in the development and delivery of an in-force engagement platform, " says Venu Shamapant, General Partner at LiveOak Venture Partners. "LiveOak's investment will help InforcePRO® capitalize on the global demand for their solutions, and accelerate the company's pace of product innovation."
"As a premier National Marketing Organization focused on the future and transforming our business, we are taking a proactive position as it pertains to managing inforce business and delivering superior value to our member firms, their advisors and ultimately the end client," said Marc Verbos, Vice President, Business Development at AimcoR Group. "As an early adopter of InforcePRO®, we congratulate the team on this important milestone and are excited that this funding will help provide significant enhancements to the platform and ultimately help us advance our strategic objective of engaging with in-force data to drive organic growth opportunities."
InforcePRO® now monitors more than 2 million in-force life insurance policies and is expanding its U.S and Canadian presence to the U.K in 2016. Jacox says, "We've always been focused on driving technological improvement post-issue, that is, after the policy is sold. There has been a focus on pre-sale technology whereas customer engagement has such obvious benefits for any industry."