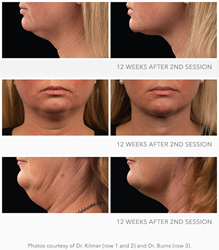 The new hand piece will let the physicians of Ethos Spa target the area in the neck known as the double chin
Summit, New Jersey (PRWEB) October 05, 2015
Ethos Spa, Skin and Laser Center has officially announced the arrival of the Coolsculpting hand piece to treat double chins to the company's range of skin care and beauty services. Coolsculpting has previously been offered in the spa to treat other areas of the body.
"We always strive to deliver the best possible experience to our clients," stated Dr. Hardik Soni, MD, the company's medical director and owner. The new hand piece will let the physicians of Ethos Spa target the area in the neck known as the double chin.
The Coolsculpting procedure is the only FDA approved, non-surgical fat reduction treatment using controlled cooling to eliminate fat that resists all other efforts through diet and exercise. The treatment targets fat cells underneath the skin while leaving the skin itself unaffected.
The alternative to Coolscuplting is liposuction. Liposuction is fat reduction surgery which is invasive, requires downtime and can put a restraint on normal patient activities for a period of time. The Coolsculpting procedure targets the fat cells underneath the skin, freezes them, and then the body will naturally process and eliminate them. Once the fat is eliminated, it is gone for good. And – no downtime!
To learn more about this new Coolsculpting treatment for double chins visit http://www.MyEthosSpa.com.
About Ethos Spa, Skin and Laser Center: Ethos Spa, Skin and Laser Center is a practice comprised of physicians, physician assistants and skin care specialists. The practice is committed to providing the latest technology and skin care, and delivers services including laser hair removal, skin resurfacing, chemical peels and injectables, such as Botox.
Contact: Donna Albanese, Spa Director
Name: Ethos Spa, Skin and Laser Center
Phone: 908-273-5400
Email: Info(at)MyEthosSpa(dot)com
Web Address: http://www.MyEthosSpa.com
Source: Hardik Soni, MD