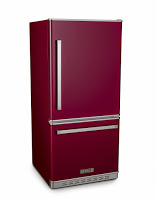 We take our commitment to color very seriously. All of our appliances are colored with a powder coating, as not to scratch or peel, so they will look good for years to come.
Bouler, CO (PRWEB) September 30, 2015
Big Chill, maker of the iconic Retro Fridge, celebrates the colors of the season with bold, beautiful colors for kitchen appliances in a contemporary look from the company's Pro line.
"Fall is the perfect time to bring some color into the home before the winter months begin. And with the holiday season, the kitchen is about to have a spotlight on it," says Orion Creamer, co-founder and president, Big Chill. "We take our commitment to color very seriously. All of our appliances are colored with a powder coating, as not to scratch or peel, so they will look good for years to come."
According to PANTONE®, the color palette for fall weaves earthy neutrals in with a range of bold color statements, as colors like Stormy Weather, Marsala, Reflecting Pond and Biscay Bay will be making appearances in fashion and home goods.
Big Chill's Pro Line can bring those top trends to the heart of the home with colors that can offer the same look. Available in Cabernet – the company's take on Marsala – as well as a French Blue, Cream, Basil Green Stone Grey and Slate, the colors of the Pro Line echo those of PANTONE's hottest seasonal shades. Big Chill's Pro Line also comes in other colors, such as Sunflower Yellow, Matte Black, Cherry Red and Orange – to help celebrate the more traditional fall color palette.
Creamer drew on inspirations from nature and travel when it came down to selecting the bold, bright, distinguished colors for the collection. Vegetables in the garden, cabernet grapes, stone in the English Cotswold's and the French countryside find their way into kitchens around the country thanks to this collection. "People can relate to colors found in nature and landscapes," explains Creamer. "Taking a rich, jewel tone approach, this color palette is diverse in styles and aesthetics."
Additionally, the Big Chill Pro Line can be colored to fit the color scheme of any kitchen. With more than 200 colors from bright hues to subdued shades, the company can also custom color the products to match almost any specifications.
Whether looking for one standout appliance or a complete kitchen makeover, the Big Chill's Pro Line suite includes a refrigerator, ranges, dishwashers and hoods. With a modern look, clean lines and a bold color palette, the Pro Line can help to create a chef's kitchen that is also fashion-forward and on trend.
In addition to bringing a touch of fall style to the kitchen, the Big Chill Pro line also offers pro-style performance to make fall cooking that much more seamless. The Pro Range comes equipped with up to 18,000 BTU burners. The full motion grates let you slide pots and pans from front to rear burners without lifting them. Additionally, the extra-large convection oven accommodates a full size sheet pan.
The coordinating hood collection is effective and stylish, with dishwasher safe stainless steel filters, variable blower control, and commercial grade 18 gauge 300 stainless steel construction.
The Pro Fridge has with gallon door storage, a spacious bottom freezer, and 2 half-width crisper drawers. It is also energy star rated and fully equipped to meet the demands of a modern kitchen.
Big Chill's Pro-style dishwasher has a stamped metal body and a stainless steel interior. Energy Star efficient and featured in the Pro collection standard colors, the dishwasher also holds 14 place settings and has four different cycles.
Big Chill products can be purchased online. For more information, visit http://www.bigchill.com.
###
About Big Chill
Big Chill was founded by Orion Creamer and his uncle Thom Vernon in 2001 and made a splash with its brightly colored, retro-styled fridges with modern amenities. Since then the Boulder, Colorado-based company has expanded its product offering to include refrigerators, fridges, dishwashers, microwaves, stoves, hoods and wall ovens, available in more than 200 colors, as well as custom colors. In addition to retro, mid-century-styled appliances, Big Chill also manufactures contemporary-styled Pro appliances that blend modern design, bold colors and serious performance. Big Chill appliances can be purchased directly online. Visit http://www.bigchill.com to learn more.