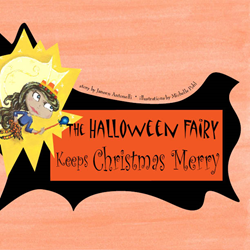 "It's a story of Santa needing candy to fatten himself."
Yorba Linda, California (PRWEB) September 29, 2015
Santa wakes from his long winter nap and there's a problem – his magic suit doesn't fit! The elves quickly jump to action and call the Halloween Fairy. Kids leave their trick-or-treat candy out for the Fairy to collect and she leaves a gift in exchange for the sugary loot. The fairy then delivers the candy to Santa who fattens up just in time to deliver Christmas presents to kids around the world. "The Halloween Fairy Keeps Christmas Merry" is a wonderful new tale for kids to read that gets the treats out of the house without a fight, leaving both parents and kids happy.
"We always had too much candy in the house after Halloween and it was a constant struggle to make sure the kids didn't eat too much," said Antonelli, author of "The Halloween Fairy Keeps Christmas Merry." "Finally we decided we'd create our own tradition."
Author Janeen Antonelli and Illustrator Michelle Pohl, both local Orange County moms, will be performing at the Orange County Children's Book Festival at Orange Coast College in Costa Mesa, Sunday Oct. 4. Antonelli will be on the Storyteller Stage at 2:40 pm and Pohl will be drawing on the Illustrator Stage at 3:30 pm.
Author Janeen Antonelli, works in at-risk youth education and serves as Vice President for Create: Inspiring Youth for a Better Tomorrow, a nonprofit group serving homeless children and families in Orange County. Illustrator, Michelle Pohl, works in various art mediums and teaches yoga. Both live in Orange County, California and have young children of their own. For more information, please visit http://www.TheHalloweenFairyKeepsChristmasMerry.com or to order on Amazon visit, http://amzn.com/1491048093. Click here for read what others are saying about this wonderful new children's book.