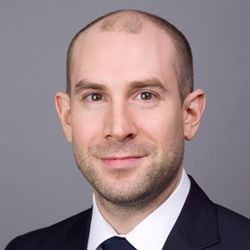 Cologne, Germany (PRWEB) September 28, 2015
cleverbridge, a global full-service ecommerce provider for software and subscription companies, announces its legal counsel, Dr. Timm Neu, will present at Compliance Summit 2015 to be held October 7-8 at the Kempinski Hotel in Frankfurt, Germany. Neu will present "Compliance in International Ecommerce" on October 8.
During Neu's presentation, he will address the multinational and multijurisdictional challenges of selling online as an international reseller. With a legal focus, the session will cover consumer protection, export control, data protection, contract, product information, tax, competition and IP/IT law, and the difficulties that arise from the differences in every country/region. Neu will also discuss online checkout processes as well as the advantages of the reseller model.
As legal counsel of cleverbridge, Dr. Neu focuses on international IT, IP and contract law. He also leads strategic and corporate legal consulting, international negotiations and contracting, and the management of the company's legal department in Germany. In the legal and compliance fields, Neu specifically analyzes multi-national regulatory requirements and developments with regards to consumer protection law, ecommerce purchase processes, customer approvals, payment providers, as well as terms and conditions. Prior to joining cleverbridge in 2013, he primarily dealt with IP law, moral rights, as well as film, TV, software, stage, print and new media licensing. He holds degrees from Humboldt-Universität zu Berlin, Université de Paris X and Cornell Law School.
Organized by the Bundesverband der Unternehmensjuristen (BUJ), an association of in-house lawyers, the fifth annual Compliance Summit has become the major industry event for legal experts of compliance. With political discussions, lectures and practical reports, the Summit offers an ideal opportunity to exchange ideas with close to 200 legal professionals. The event provides opportunities to network, learn and share on the very latest thinking and strategies in policy management, data protection issues and other key issues facing today's legal and compliance departments.
To learn more about cleverbridge, please contact inquiry(at)cleverbridge.com or visit http://www.cleverbridge.com.
About cleverbridge
cleverbridge is a proven leader in ecommerce technology, services and expertise for global software and subscription companies that serve consumers and businesses. For more than 300 clients – including Avira, Corel, Dell, Malwarebytes and Parallels – cleverbridge is a true extension of their teams, understanding each client's billing models, markets, channels and specific ecommerce requirements. cleverbridge provides an unsurpassed customer experience so that clients can strategically leverage ecommerce to effectively build customer relationships and generate more revenue. Headquartered in Cologne, Germany, cleverbridge has offices in Chicago, San Francisco and Tokyo. For more information, visit http://www.cleverbridge.com.