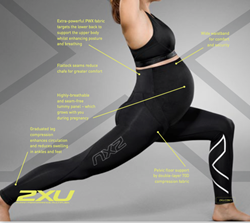 San Diego, CA (PRWEB) September 28, 2015
2XU is expanding their athletic wear line to include both a prenatal and post-natal line of compression tights and shorts designed specifically for pregnant women and for postpartum recovery.
As one of the leading suppliers to some of the fittest humans on the planet, 2XU believes that pregnancy, and the recovery after the birth, pushes the female body to the limit.
With the added weight of a growing belly, complications such as edema, varicose and spider veins, dizziness, exhaustion, cramping, muscle fatigue, and a myriad of other problems can often occur. 2XU has developed a way to increase blood circulation from the feet to the growing baby, empowering moms to flourish without sacrificing their normal day-to-day activities.
2XU pre/post-natal tights feature:

Graduated leg compression enhances blood circulation thus reducing swelling in ankles and feet
Extra-powerful PWX fabric targets the lower back to support the upper body whilst enhancing posture and breathing
Flatlock seams reduce chafe for greater comfort
Pelvic floor support by double-layer 70D compression fabric
Pre-natal tights include highly breathable and seam-free tummy panel – which grows with you during pregnancy
Post-natal tights feature single front panel that avoids caesarian scars and improves comfort
"As 2XU continues to expand its market and grow worldwide, adding a new line to support one of the most amazing feats of human performance makes perfect sense," said 2XU's Global CMO, Anthony Reeves, who is equally delighted to be expanding the brand's enviable portfolio of products and athletes. "With 2XU at the forefront of technical garments, we couldn't be happier about the timing of this launch."
2XU's compression tights are recognized by Olympic and professional athletes and A-list celebrities (such as Matt Duchane, Hugh Jackman and Pippa Middleton) for their proven compression and fitness-enhancing technology. Engineered with powerful Invista LYCRA and PWX FLEX fabric that is versatile, breathable and lightweight, this body firming material is ideal for moving, training and recovery when your body is pushed to the limit. 2XU tights minimize harm and overall leg fatigue when carrying the extra weight of pregnancy.
New styles of maternity and post-partum compression tights and shorts will be launched by mid November with prices starting at around $129.95 a pair.
Women globally can now be empowered to be proactive in battling the circulation complications and meet these challenges with the strength and performance support of 2XU.
For additional information, please visit http://www.2XU.com or contact chelsea(at)chicexecs(dot)com
Contact:
ChicExecs PR
1487 Poinsettia Ave. Ste. 125
Vista, CA 92081
310.569.6586
ChicExecs PR is an "out of the box" PR company which represents over 70 clients. ChicExecs has created an innovative approach to PR dedicated to helping small-medium businesses receive media coverage. Our revolutionary automated system is changing the face of PR. To learn more about ChicExecs visit http://www.chicexecs.com.