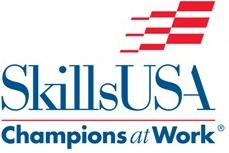 Leesburg, Va. (PRWEB) September 29, 2015
SkillsUSA joins other student organizations to salute industry partners for National Manufacturing Day on Oct. 2, a celebration designed to improve public perception and understanding of careers in manufacturing and engineering. This is the fourth year for the event, and more than 1,600 American manufacturers will open their doors to students.
In honor of Manufacturing Day, SkillsUSA recognizes the role its manufacturing partners play in helping SkillsUSA meet its mission to empower its student members to become world-class workers, leaders and responsible American citizens. The U.S. manufacturing sector is the world's eighth-largest economy and provides more than 12 million jobs, almost all of which require increasing levels of technical expertise and ability to apply critical thinking and problem-solving skills.
SkillsUSA Executive Director Tim Lawrence said, "Our manufacturing base must be strong in order to keep our national economy strong. Today, SkillsUSA continues to work with our key partners to bolster awareness of the manufacturing industry as an excellent career choice. We want to help inspire students and support manufacturing training programs, foster the creation of new jobs and broaden work opportunities for more Americans."
Among the 300,000 career and technical high school and college/postsecondary SkillsUSA members nationwide, thousands are studying careers in the trades and specifically for manufacturing careers. Many more are studying curricula related to science, technology, engineering and math (STEM), which often lead to careers in the manufacturing sector.
SkillsUSA chapters will participate in Manufacturing Day in a few different ways. Some schools will hold an Open House to showcase their manufacturing-related training programs to parents and the community. Other chapters will visit one of the 1,205 Manufacturing Day events planned nationwide. These range from career fairs to manufacturing plant tours. There are also virtual field trips for students to attend. For more information on Manufacturing Day events, go to: http://www.mfgday.com.
About SkillsUSA
SkillsUSA helps students follow their passions to their ultimate careers. As a partnership of students, instructors and industry working together, SkillsUSA works to ensure America has a skilled workforce. It helps every student excel. The nationwide career and technical education student organization annually serves more than 320,000 high school, college and postsecondary students — and their instructors — in technical, skilled, and service occupation instructional programs. Career and technical education is learning that works for America. Technical skills, honed through industry-designed and judged competitions and authentic assessments, complemented by employability and leadership skills training make SkillsUSA students career-ready, productive and promotable on the job. In this way, SkillsUSA is a vital answer to the nation's growing "skills gap" that compromises our economic vitality and security.
More than 11.9 million people have been annual members of SkillsUSA since its founding in 1965. SkillsUSA programs teach leadership, citizenship and character development to complement technical skill training. The organization emphasizes respect for the dignity of work, ethics, workmanship, scholarship and safety. More than 90 percent of SkillsUSA's operational expenses is spent on program services for member students and educators. For more information, go to: http://www.SkillsUSA.org.
Industry Support for SkillsUSA
Nationally, SkillsUSA enjoys support from more than 600 corporations, businesses, associations and labor unions. These sponsors support SkillsUSA financially and with in-kind contributions because they believe in our mission. Each year, the SkillsUSA Foundation raises more than $3 million in unrestricted and restricted financial donations for SkillsUSA's mission delivery. The SkillsUSA Championships requires an estimated $36 million in in-kind donations of volunteer labor and expertise, contest equipment and supplies, and contest prizes. Manufacturers whose 2015 investments in mission-related national programs and events qualify for SkillsUSA Official Sponsor status include:
3M Company
Aggreko, LLC
Air Products
Alcoa Foundation
AMT - The Association for Manufacturing Technology
Axalta Coating Systems
Robert Bosch Tool Corp.
Calculated Industries
Carhartt Industries
Caterpillar Inc.
Chrysler Group LLC
Deere & Company
GE Appliances
Harley-Davidson Motor Co.
Hewlett-Packard Company
Hypertherm, Inc.
intelitek, Inc.
Interstate Batteries, Inc.
IRWIN Industrial Tools
Lincoln Electric Co.
Miller Electric Mfg. Co., Inc./Hobart
Panduit Corporation
Praxair Inc.
Sandvik Coromant
SawStop, LLC
Snap-on Incorporated
Toyota Motor Sales, USA
# # #