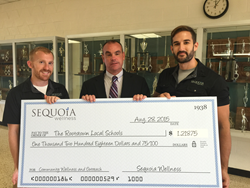 Our hope is to teach the youth in this community the value of making healthy lifestyle choices from a young age. -Andy Malitz, GM, Sequoia Wellness
Rootstown, Ohio (PRWEB) October 01, 2015
Sequoia Wellness, a leading provider of community-wide health and wellness in Portage Country is giving back to local schools with a donation of $2,437.50 to The BIOMED Science Academy and Rootstown Local Schools.
The donation came from the proceeds of the Sequoia Wellness Bookin' It 5k and Family Fun Run and enrollment drive that took place on August 8th. Sequoia donated these funds to the schools to help fund health and wellness initiatives for students. Each school received $1,281.75. "We are looking forward to partnering with the local schools to help instill the importance of health and wellness, both physical and mental, to the students of this community," said Andy Malitz, General Manager of Sequoia Wellness. "Our hope is to teach the youth in this community the value of making healthy lifestyle choices from a young age, and we will continue to do all we can to be a resource for them."
Sequoia Wellness, located on the NEOMED Campus in Rootstown, is a medically-integrated health and wellness center aimed at achieving the optimal state of well-being for each member in each community that it serves. Sequoia is designed to provide comprehensive programming, deeply-rooted in researched-based training and education. Since opening in The NEW Center at NEOMED in August of 2014, Sequoia Wellness has had a transformative effect on the health and wellness of its' current membership which is comprised of local residents, NEOMED faculty, staff and students.
Sequoia Wellness is the consumer-facing brand name for Integrated Wellness Partners' (IWP) health and wellness centers. IWP is a Signet Enterprises Company.
For more information about Sequoia Wellness, visit http://www.sequoia-wellness.com.