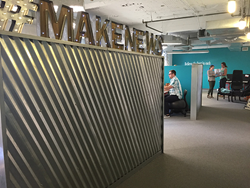 I started this agency in 2012 at my kitchen table with a vision to change the 100-year-old PR industry while simultaneously propelling technology brands to the top of their industries
Atlanta (PRWEB) September 29, 2015
Technology public relations and integrated communications agency, AR|PR, today announced that in Q3, it has expanded its national client roster and tripled the size of its Atlanta headquarters. Coinciding with the award-winning agency's third anniversary, the tech PR firm now occupies nearly 2,000 square feet in The Biltmore, located in Atlanta's Tech Square. Fueling this move is the continued expansion of the firm's client roster, growing employee base, as well as numerous business and industry awards obtained this calendar year.
"As AR|PR's very first client, I've watched them successfully grow their team, expertise and client base over the past three years," said Rebecca Kritzman, director of strategy, marketing and communications for ICCN+Palladium, a global provider of battery packs, chargers and power supplies. "The agency has managed our press, thought leadership and social media, as well as helped us execute marcomm for not one, but two company mergers, and I would not do it with anyone but AR|PR."
In Q3, AR|PR welcomed new technology brands from all corners of the U.S., including:

Also in Q3, AR|PR welcomed three new members to its team of 14 marketing professionals. In July, the firm brought on Victoria Borges as a media and content specialist. Prior to joining the agency, Victoria served as a marketing communications professional in economic development for the state of Georgia and a corporate communications specialist for a Swedish technology company. She successfully developed and executed global marketing campaigns and brand engagement initiatives, as well as planned events from local media tours to international trade shows. Angie Chesin also joined AR|PR this quarter as office and operations manager where she brings valuable marketing agency experience as well as leadership and organizational skills to the team. Angie's focus will be on guiding the firm's expanding infrastructure into its next phase of growth. In addition, Rachel Blanks was hired as account coordinator after serving as the agency's intern where she excelled at graphic design, digital marketing and social media. Rachel is a member of the Atlanta Press Club and a former print magazine features writer.
"I started this agency in 2012 at my kitchen table with a vision to change the 100-year-old PR industry while simultaneously propelling technology brands to the top of their industries, but I couldn't have possibly dreamt of the success this agency has seen," says Anna Ruth Williams, founder and CEO of AR|PR. "All of this is made possible by our team. Our 'army of awesome' is a talented and diverse group of professionals who come to work each day passionate about serving our forward leaning technology clients."
To learn more about AR|PR's current client roster and services, visit http://www.arpr.co.
###
About AR|PR
As the nation's fastest growing technology PR firm and the 2014 National Small Agency of the Year, AR|PR is a results-driven public relations and integrated communications agency for technology leaders and innovative startups. With a passion for telling technology and entrepreneurial stories, AR|PR cultivates strategic partnerships with its high-growth tech clients. From early-stage startups to mid-sized enterprises, AR|PR helps companies within the cybersecurity, energy, Health IT, mobility and Software-as-a-Service (SaaS) industries cut through the noise and clutter to #makenews. For more information on the award-winning agency visit their offices in Atlanta and New Orleans, and at arpr.co and @AR__PR.