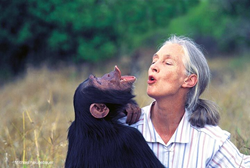 The most important thing I can say to you…who are now reading this is that you, as an individual, have a role to play...
Fredericksburg, VA (PRWEB) September 29, 2015
Environmental consulting firm Marstel-Day has partnered with the world-renowned Jane Goodall Institute (JGI) and Fredericksburg's Hugh Mercer Elementary to teach the school's kindergarten through second-grade students about chimpanzees, wildlife conservation, and JGI's community conservation and environmental education programs.
The event will take place on Tuesday, October 6 at Hugh Mercer Elementary as part of Marstel-Day's #StandWithWildlife campaign.
The public can watch the live stream of the event here on Oct. 6 at 1 p.m. on the Marstel-Day website.
The private presentation will kick off with a personalized video message from Jane Goodall, the world's leading expert on chimpanzees. The event will use stories and games tailored to Hugh Mercer Elementary's students to educate them about wildlife and conservation.
The event launches the inclusion of wildlife conservation as a core area in the elementary school's science, technology, engineering and math (STEM) curriculum, as of this 2015-2016 academic year.
"The most important thing I can say to you…who are now reading this," Dr. Goodall, Jane Goodall Institute founder and United Nations Messenger of Peace, wrote in her book, My Life with the Chimpanzees, "is that you, as an individual, have a role to play and can make a difference. You get to choose: do you want to use your life to try to make the world a better place for humans and animals and the environment? Or not? It's all up to you."
Goodall added that young "people, when informed and empowered, when they realize that what they do truly makes a difference, can indeed change the world. They are changing it already."
At the turn of the 20th century, there were approximately one million chimpanzees, but today fewer than 300,000 remain in the wild, according to the JGI website. It says that a key factor is destruction of habitat; Africa loses more than 10 million acres of forest every year, twice the world's deforestation rate.
"Saving nature is our top priority," said Marstel-Day environmental consulting firm's President and CEO Rebecca R. Rubin. "Marstel-Day is very proud to stand with the remarkable Jane Goodall Institute and Hugh Mercer Elementary School in inspiring our kids about wildlife conservation as part of our #StandWithWildlife campaign."
JGI's global Roots & Shoots program empowers young people to become environmental and humanitarian leaders. With 150,000 youth participating in more than 130 countries, Roots & Shoots has been connecting youth who want to create a better world with service projects and youth-led campaigns in their communities since 1991, according to the JGI website.
Rubin created #StandWithWildlife, previously known as the Wildlife Conservation Awareness Campaign, to highlight major conservation issues and present ways that individuals and organizations can help address them.
About Marstel-Day:
Marstel-Day is an environmental and conservation consulting firm that provides climate and water risk analysis and mitigation, land-use and encroachment management, sustainability management, renewable energy planning, and natural resource services. Follow #StandWithWildlife on Twitter @marstelday, and watch previous events on video at Marstel-Day's website.
About the Jane Goodall Institute:
Founded in 1977, the Jane Goodall Institute continues the pioneering research on chimpanzee behavior that Dr. Goodall started more than 50 years ago - research that transformed scientific perceptions of the relationship between humans and animals. Today, the institute is a global leader in the effort to protect chimpanzees and their habitats. It also is widely recognized for establishing innovative community-centered conservation and development programs in Africa and Jane Goodall's Roots & Shoots, the global environmental and humanitarian program for youth, which has groups in more than 130 countries. Visit janegoodall.org for more information.