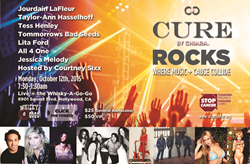 I've watched my mother and my father both die from cancer. So many people suffer every day from some form of this disease somewhere in their family chain. A friend, a relative… it's all the same. Really, why can't we find a cure for cancer? ~ Lita Ford
Los Angeles, CA (PRWEB) September 29, 2015
Join international hair care leader I.C.O.N. Products for their 1st annual Cure Rocks benefit concert on Mon., Oct. 12, 2015, live at the world-famous Whisky a Go-Go (located at 8901 Sunset Blvd, Los Angeles). From 8 p.m. to 1:30 a.m., the Cure Rocks stage will rock to find a cure, showcasing all genres of music with talent sharing intimate stories of how breast cancer has affected their lives. 100 percent of the proceeds from the event will go toward funding research grants to benefit STOP CANCER through I.C.O.N.'s "Cure For A Cause."
After a traditional red carpet from 7 p.m. to 8 p.m., award-winning Alternative Country artist Jourdain LaFleur will kick off the night, followed by Bravo's Rich Kids of Beverly Hills' Electro-Indie newcomer Taylor-Ann Hasselhoff, and Guitar Center's National Singer-Songwriter Program's Tess Henley. Pop-Reggae band Tomorrows Bad Seeds will then rev up the crowd before an acoustic set by legendary rocker Lita Ford & her guitarist Patrick Kennison, and Grammy-winning R&B group All-4-One. Lastly, DJ Jessica Melody will dance her way onto the decks for Zen Elixir's Glow Party closing out the night. No stranger to rock music, How 2 Girl and the lovely wife of Nikki Sixx, Courtney Sixx will serve as Cure Rocks mistress of ceremonies.
Today's buzzing talent and Rock n' Roll Hall of Famers will grace the stage for one night only, generously donating their time to the greater good of of charity banding together for a cause that has hit every heart and household in some way or another. "I've watched my mother and my father both die from cancer. So many people suffer every day from some form of this disease somewhere in their family chain. A friend, a relative… it's all the same. Really, why can't we find a cure for cancer?" said former Runaways lead guitarist, Lita Ford. The harmonious All-4-One stated "We want to be one of the voices of many to bring attention, awareness and a cure for this disease that affects many whom we all love." Collaboratively, the passion is igniting the talent on a whole other level of artistic expression.
Trends may come, and trends may go; though I.C.O.N. knows giving back to charity is a style here to stay. Proud to support the mission of STOP CANCER, in 2007 I.C.O.N. joined forces and launched its "Cure for a Cause" worldwide campaign. STOP CANCER's unique relationship with UCLA's Jonsson, USC Norris and City of Hope Comprehensive Cancer Centers allow every dollar raised, be matched with a dollar of in-kind support to each awardee. This includes space, equipment, telephones, lab supplies, administrative services, and underlying salary support.
I.C.O.N.'s owner and creative director, Chiara, is a breast cancer survivor herself, so "Cure for a Cause" has become both a professional and personal commitment toward fighting the disease. Donating 20 percent of its yearly "Cure by Chiara" micro-line sales in addition to their fundraising efforts, the brand has raised more than $250,000 and has funded five research seed grants to date. UCLA recipients include Richard J. Pietras, M.D., Ph.D. (2011), Susan McCloskey, M.D. (2012), Arash Naeim, M.D., Ph.D (2013), Bogdan Pasaniuc, M.D. (2014) and Erica K. Sloan, Ph.D. (2015). Research has involved HER-2 growth factor receptors; quality of care and quality of life, health technology, and outcomes assessment; screening, diagnosis, and treatment; employment of bioinformatics to study population genetics with the goal of identifying novel risk factors; and psychological stress, and cancer progression.
Concert-goers can look forward to a barrage of raffle prizes, including a signed guitar by Slash. Tickets are available at the door or for purchase on Cure Rocks website. General Admission is $25, and VIP is $50. VIP tickets grant access for a meet and greet with Lita Ford or All-4-One, where fans can snap a photo and say hello.
All interviews or press/media inquiries for Cure Rocks talent, STOP CANCER, or I.C.O.N. or to RSVP, please submit to Jade Umbrella PR.
About I.C.O.N. Products: Worldwide hair care leader, I.C.O.N. Products was launched in Europe and North America in 2002. Its products are sold in professional salons internationally. Its philosophy is to produce eco- safe care products and create "liquid fashion" with its conscious styling, coloring, and finishing tools to continuously challenge the perception of beauty. I.C.O.N. has consistently broken established, industry rules to provide a balance of identity and "intelligent style." All I.C.O.N. Products are crafted using EcoTech formulations, combining the best of ecology paired with advanced technology. The company offers expansive education and twice-yearly haircut collections via the Front Row.
About STOP CANCER: STOP CANCER is committed to funding the most promising and innovative scientists in their early research of all forms of cancer prevention, treatment, cures and subsequent clinical applications. STOP CANCER works primarily with local National Cancer Institute-designated Comprehensive Cancer Centers and other qualified institutions in the United States to carry out its mission. Founded in 1988, STOP CANCER has funded 244 grants to 201 researchers with support valued at over $65 million for cancer research.