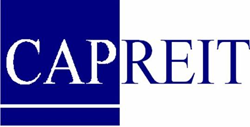 This is an honor and truly a reflection of the CAPREIT team as a whole.
Rockville, Md. (PRWEB) September 29, 2015
CAPREIT president Andrew S. Kadish has been honored by Real Estate Forum as an Emerging Multifamily Leader, and appeared in the September issue of the magazine. Kadish oversees the strategic and daily operations for CAPREIT, a national real estate development and investment company responsible for the ownership and management of more than $5 billion of multifamily assets.
Kadish, 35, assumed the president role in January, taking the reins from his father, CAPREIT founder Dick Kadish. The magazine lauds Andrew Kadish for demonstrating leadership and strategic-thinking tools in keeping CAPREIT as one of the leaders in the multifamily industry.
"This is an honor and truly a reflection of the CAPREIT team as a whole," Kadish said. "We're blessed to have strong leadership throughout the company, and the collective talents, insights and fortitude of everyone here is what truly makes this operation successful. This is a team award."
Kadish was one of 34 Emerging Leaders selected from a pool of about 200. His ability to lead CAPREIT and its team of about 350 associates "in an organized, profitable manner" was cited as a distinguishing characteristic.
Since Kadish took over at the beginning of the year, CAPREIT has acquired $250 million in multifamily assets and sold nearly $150 million on behalf of the company. Kadish has another $100 million in acquisitions planned for the remainder of the year.
Kadish previously served as senior vice president in charge of the acquisition, financing and renovations of multifamily developments and has served in a variety of capacities for CAPREIT for about a decade. After passing on the president role to his son, Dick Kadish transitioned to chairman of the board of directors for the company.
Andrew Kadish is quoted in the magazine about the future of the multifamily market, saying: "I believe there will continue to be some mergers of multifamily companies in 2015 and 2016. A strong and dedicated property management team will allow smaller companies, similar to CAPREIT, to continue to grow and prosper."
Kadish is a graduate of the University of Pennsylvania and the Villanova School of Law. He is also a member of the New Jersey and Pennsylvania State Bar Associations.
About CAPREIT
As one of the nation's leading housing companies since its inception in 1993, CAPREIT has been involved in more than 200 multifamily communities, representing more than 30,000 rental homes housing more than 100,000 families. CAPREIT is focused on the implementation of a savvy acquisition strategy, innovative financial structures, and a professional property management style based on resident satisfaction and retention, as well as asset preservation and enhancement. Today, CAPREIT maintains its mission to create value-added growth through strategic acquisitions, continuing to capitalize on multifamily housing opportunities.