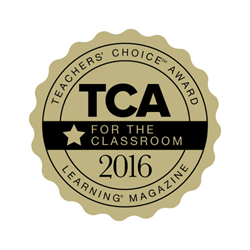 Waggle receiving this award is a testament to its impact on student learning.
New York, NY (PRWEB) September 29, 2015
Waggle for English language arts from Triumph Learning, producer of critically acclaimed K-12 texts and interactive digital tools, earns the 2016 Teachers' Choice Award in the classroom category. Presented by Learning Magazine since 1994, the prestigious awards selected 30 winners based on scores from the evaluations done by a panel of teachers across the country.
"Teachers' Choice is the only awards program that is exclusively judged by teachers in the classroom," said Heather Crews, awards coordinator at Learning Magazine. "Waggle receiving this award is a testament to its impact on student learning."
Waggle is a personalized, online learning program focused on practice that is designed to help students conquer skills and achieve success beyond the test. Using true personalization, Waggle meets students where they are along the learning path in English language arts or math and promotes productive struggle. When Waggle facilitates productive struggle, students become more self-directed and empowered to take ownership over their own learning.
"Triumph Learning is honored to receive this recognition from teachers who are as dedicated as we are to guiding students along their own personalized learning paths," said Aoife Dempsey, CTO at Triumph Learning. "Waggle was designed to provide students with a safe and positive atmosphere to explore tasks beyond their reach with guidance and encouragement from their teachers."
A team of teachers evaluated Waggle on quality, instructional value, ease of use and innovation. Only products that meet the educators' stringent standards are chosen to receive a Teachers' Choice Award.
About Triumph Learning
Triumph Learning, LLC, is a leading educational content company and publisher of print and digital K-12 resources, standards-aligned instructional materials and effective literacy programs. Its state-customized products increased student achievement and raise scores on high-stakes exams for more than 6 million students in 36,000 schools in 2013 and 2014. Triumph Learning offers unique student solutions, robust teacher support, and professional development opportunities. Triumph Learning is committed to serving all students with a mix of interactive digital tools and innovative student texts with products such as Coach and Waggle. For more information, visit http://www.triumphlearning.com/waggle.