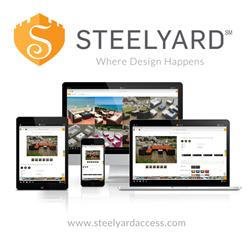 The new brand and platform reflect a major transformation for the company and an expanded commitment to provide the professional design industry's most comprehensive online marketplace.
TAMPA BAY, Fla. (PRWEB) September 29, 2015
Trade Only Design Library (TODL) — the pioneering online platform for enabling commerce between professional designers and leading brands — today announced its rebrand as "Steelyard" and the launch of its all-new online and mobile platform. The new brand and platform reflect a major transformation for the company and an expanded commitment to provide the professional design industry's most comprehensive online marketplace.
TODL was founded in 1997 as a digital collection of interior design product catalogs and has since evolved into a comprehensive online resource to help designers, architects, builders and facility managers find, specify, and purchase products. Steelyard represents a revolutionary leap in the design industry by transforming the entire user experience and extending that experience to all mobile devices. New features include improved precision search, enhanced project management capabilities, more efficient communication with brands and powerful connections into the industry. For manufacturers, Steelyard debuts a new analytics platform and sales portal that drives meaningful and measurable engagement with tens of thousands of member designers.
"The new Steelyard online and mobile platform will greatly benefit the professional design industry," said Tom Conley, CEO of High Point Market Authority — the world's largest furnishings industry market and a longtime partner of TODL. "It brings leading brands together with designers in ways that facilitate commerce and productivity for both."
"Since we opened our doors 18 years ago, we've never stopped focusing on design professionals and the brands that serve them," said founder Stacey Tiveron. "Our innovative use of technology has enabled us to build a completely unique web and mobile experience that flows with the actual process of design. We've streamlined the design process end-to-end to enable professionals to digitally search, locate (online or in-person), spec, and organize products within projects, as well as initiate product orders. We've created a place where designers can work efficiently, seamlessly engage with the industry's best brands, and be continuously inspired — all in a protected environment just for them."
The whole platform can be customized to each designer's preferences, from how they search to how they receive inspiration from the latest products and trends. Steelyard becomes a design professional's all-purpose workshop by enabling the uploading of data from outside Steelyard right into project folders, creating Preferred Brand libraries, tagging favorites and requesting samples or pricing quotes.
"Steelyard also provides a major service for our manufacturers and distributors by enabling them to build an efficient and profitable design industry sales channel," said CEO and Chairman Shawn Hughes. "Our new, customized sales portal and precise analytics mean a better way to view and track sales performance, engage the right designers and convert viewers to buyers. Our brand clients can literally see and track the flow of commerce for their products as design projects develop."
In addition to intuitively and efficiently connecting design professionals with the brands that serve them, Steelyard also facilitates important links to relevant industry events and sources of inspiration. The platform incorporates search and planning tools for major industry trade shows and markets — beginning with High Point Market, Hospitality Design Expo and Las Vegas Market. The new Steelyard platform provides a much-needed marketplace hub for commerce, industry connections, and timely inspiration for the professional design industry.
About Steelyard
Steelyard is an 18-year-old company that is a pioneer in leveraging technology to power design industry commerce. Our online platform connects professional designers with compelling brands — blending inspiration and efficiency to create the commercial and residential design industry's premier online marketplace.
For our professional design members, Steelyard provides a secure and vetted community of leading manufacturers and vendors whose interest is to serve the diverse needs of designers, architects, builders, and facility managers. For our manufacturer brands, Steelyard provides an effective sales channel to reach tens of thousands of professional trade buyers in a diverse and lucrative B2B market that specifies over $68 billion of products in North America annually.
For more information, please visit us at http://www.SteelyardAccess.com or connect with us on LinkedIn.