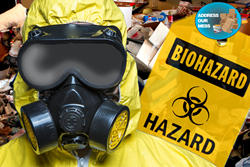 Constant exposure to these threats can result in illness and even death.
Philadelphia, PA (PRWEB) October 09, 2015
When thinking of bio-hazards, thoughts of chemical waste spills or bloody scenes may come to mind, but what is the relation of bio-hazards to hoarding? Bio-hazards are biological agents that can be hazardous to the health and can include elements such as feces and blood. Some habitats of hoarders may extend far beyond papers, boxes and trinkets; there are individuals whose homes entail more extreme conditions such as food, chemicals, medications, garbage, and even fecal matter. Whether the individual is intentionally collecting such hazards or if his/her hoarding clutter is preventing the proper disposal of said hazards, the individual is still residing in an at-risk environment. Address Our Mess is now confronting those hoarding bio-hazard risks within the Philadelphia area.
Attempting to tackle bio-hazardous conditions without professional assistance is ill-advised. In order to ensure people's safety, Address Our Mess is offering its services to the people of Philadelphia and the surrounding areas. Garbage, trash and debris is most often the form of bio-hazard hoarding encountered. Over time, this garbage can cultivate bacterial and pathogenic perils. Constant exposure to these threats can result in illness and even death. In addition, this litter can entice vermin and pests, which can in turn bring about property damage and infections.
Blood, needles, and other bodily fluids are also an ever-present threat. Though blood and bodily fluids already exist within the human body, exposure to these ailments can produce blood borne pathogens. Blood borne pathogens are infectious and include hepatitis B (HBV), hepatitis C (HCV), and human immunodeficiency virus (HIV), among others. Improperly disposed needles that have been previously used can be ominous threats, subjecting unwary people to blood borne pathogens.
Chemical, flammable and pharmaceutical disposal are also included within the list of provided services. Expired chemicals and medications are dangerous. The chemicals can create fire hazards and possible explosions. Expired prescription drugs can be toxic if consumed. A professional cleanup company is trained to efficiently disposes of these risks to warrant the safety of all who are in danger.
Sometimes household clutter can prevent the residents from proper disposal of animal and human fecal matter. The exposure to feces (animal and human alike), urine and vomit is grotesque. Aside from the rank smell, the residents are at risk for respiratory problems and other illnesses due to exposure to ammonia, a chemical compound that can be found in urine. High levels of ammonia can also affect the brain, impairing memory, brain functions, and more. Not only can these be inhibiting to the residents of the home, but the odor can perturb the community, affecting neighboring buildings and people.
Address Our Mess is trained to properly handle these hoarding hazards and ensure the safety of the people. Now Philadelphia area residents undergoing any of the above conditions can refer to Address Our Mess to resolve their bio-hazardous situation.