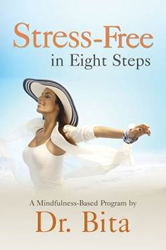 "We are pleased to announce the release of this workbook that will guide readers to a more stress-free life." - Robert Fletcher, CEO of Strategic Book Publishing and Rights Agency
(PRWEB) October 16, 2015
Want to manage stress and beat it in eight simple ways? This mindfulness-based program will teach readers to be "Stress-Free in Eight Steps."
Clinical Psychologist Dr. Bita presents an empowering workbook on stress management that shows her comprehensive understanding of the inner workings of the mind and its connection to stress, because when stress is not addressed, it can harm body and mind.
Dr. Bita guides readers through techniques and exercises in assertiveness, mindfulness, relaxation, self-hypnosis, and more, to tap into and overcome daily stressors.
Stress trigger signals are sent to the body before the mind can react, leading to changes in digestion, movement, and even posture. Everyone experiences some level of stress, and chronic stress can lead to clinical depression. Be empowered and manage your stress beginning today!
"We are pleased to announce the release of this workbook that will guide readers to a more stress-free life," said Robert Fletcher, CEO of Strategic Book Publishing and Rights Agency.
About the Author: Dr. Bita is the author of one workbook and two books, including "Lifestyle Amnesia: The Brake Pedal to Mindfulness." She is the founder and clinical director of Dr. Bita's Health Network, a chain of integrative clinics spanning Canada that brings together health care professionals from different fields. Specializing in psychological disorders, she has a different approach to therapy, integrating Schema-focused CBT, mindfulness, and sensorimotor psychotherapy to meet clients' individual needs, allowing them to achieve psychological well-being and empowering them to become their own therapists. Her scientific contributions most famously center on the psychological effects of immigration.
STRESS-FREE IN EIGHT STEPS: A MINDFULNESS-BASED PROGRAM (ISBN: 978-1-63135-867-8) is now available for $10.95 and can be ordered through the publisher's website:
http://sbpra.com/DrBita or at Amazon.com or Barnesandnoble.com.
WHOLESALERS: This book is distributed by Ingram Books and other wholesale distributors. Contact your representative with the ISBN for purchase. Wholesale purchase for retailers, universities, libraries, and other organizations is also available through the publisher; please email bookorder@sbpra.net.