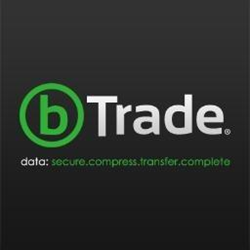 "We are honored that the SCMSDC board determined that bTrade's employees and business processes meet their stringent standards and granted us recertification."
Glendale, California (PRWEB) September 29, 2015
bTrade, the leading provider of compression and managed file transfer technology solutions, today announced that it has been recertified as a Minority Business Enterprise (MBE) by the National Minority Supplier Development Council (NMSDC). MBE's are typically certified by cities, states or federal agencies, and the predominant certifier for minority businesses is the NMSDC in conjunction with its 35-40 regional affiliates.
NMSDC certifications cover a wide variety of businesses from small minority-owned organizations to billion dollar powerhouses. According to the U.S. Small Business Administration, minority-owned businesses account for nearly $700 billion in revenues. MBE certification is accepted and generally required by many of the largest publicly, privately and foreign-owned companies, as well as universities, hospitals and other buying institutions. NMSDC has an impressive list of corporate members that represent a veritable "Who's Who" in corporate America.
Steve Zapata, bTrade's President and CEO, commented on the MBE recertification: "Many Fortune 500 enterprises and an abundance of small to midsize businesses look for solutions from high quality, innovative security technology vendors. We are proud to have earned recertification in this exclusive group of technology providers, and I see this as another important step in demonstrating our continued commitment of delivering innovative and secure managed file transfer software solutions to organizations worldwide."
NMSDC has established stringent certification standards which identify bona fide minority businesses, and the regional Councils do the investigation to determine whether a business is worthy of MBE certification. For the recertification process, bTrade worked with the Southern California Minority Supplier Development Council (SCMSDC). SCMBDC performed a combination of screenings, interviews and site visits to establish bTrade's eligibility. This feature distinguishes NMSDC from other organizations or entities that publish directories which allow "self-certification" as their standard.
In business for more than 25 years, bTrade is a profitable and growing software technology company with headquarters based in Glendale, California. bTrade continues to enhance its managed file transfer solutions, including TDXchange, and help organizations with their managed file transfer and data security needs.
"We are honored that the SCMSDC board determined that bTrade's employees and business processes meet their stringent standards and granted us recertification," said Zapata. "The recertification will help place our software technology in a favorable position for continued growth, and is especially meaningful to our relationships with those organizations that are engaged in supplier diversity initiatives."
About bTrade
bTrade develops managed file transfer technology solutions for enterprises that share sensitive data across applications and organizations, and face complex security and compliance mandates. Thousands of customers depend on bTrade's solutions to gain control and oversight of the movement of critical corporate data to facilitate data growth, reduce security risk, and improve IT and business efficiency. Our company legacy is a living force that drives our constant quest to perfect the managed file transfer process. bTrade is defined by the collective wisdom generated from over 25 years of insight and innovation in the managed file transfer field. Our commitment to, and focus on our core purpose—MFT software solutions—has earned us the trust and confidence of our many customers.
For more information on bTrade's managed file transfer solutions and services, please visit bTrade.com.
Follow us on Twitter, LinkedIn and Facebook.