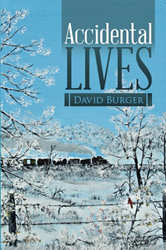 From the worst parts of my life, came the best parts
SPRINGDALE, Ark. (PRWEB) September 30, 2015
How often is a dreamer aware that what he or she experiences is actually a dream? Imagine feeling that way during wakeful times.
In David Burger's debut novel Accidental Lives, the main character suffers a grave injury that leaves him with amnesia. He alternates back and forth between a lucid dream and reality; the problem is that he is not sure which is which.
"Time is a perceived quantitative," Burger said. "Through Brian's experiences in the story, the reader is able to explore reality versus perception."
With dreaming such a significant element of the story, it is fitting that Accidental Lives stemmed from a dream of the author's.
Burger in fact relates quite well to his main character, a man who faces unsettling trauma in his life. The author has known trauma of his own, specifically his divorce, which separated him from his two daughters. The pain of that separation led him on a spiritual journey, where he gained peace thanks to the words of Wayne Dyer and other authors.
"From the worst parts of my life, came the best parts," Burger said. "Without my divorce, I wouldn't have had to search and come across the writers and other people who have influenced my life."
For more information, visit http://www.authordburger.com/.
ABOUT THE AUTHOR
David Burger served in the US Air Force and earned both his pilot's license and mechanic's license in aviation. He has an entrepreneurial spirit and has started multiple businesses, including a financial services business in northwest Arkansas. After his divorce, David struggled through depression but found peace through a spiritual quest, discovering authors like Wayne Dyer who spoke to his heart. He is the father of two girls and currently lives in Springdale, Ark.
# # #
**FOR IMMEDIATE RELEASE**
For review copies or interview requests, contact:
Jaymie Shook
317.602.7137
jshook@bohlsengroup.com