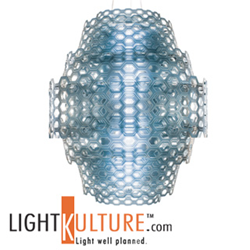 I'm proud of our 17 year relationship with Slamp and the magical brand they have become.
Los Angeles, CA (PRWEB) October 06, 2015
LightKulture.com is excited to re-launch Slamp, fresh, forward thinking, contemporary Italian lighting, back to the US market. "When my husband and I moved from Europe to America in 1998, we started our lighting business by importing Slamp ourselves", noted Susan Inderbinen President of LightKulture.com. In the late 90's what made Slamp right for the US market was a unique, lightweight material that offered style and elegance. In the past 20 years, Slamp has evolved to become a worldwide brand that represents an Italian philosophy of light, which is also the Italian philosophy of life, Passion. At Slamp, lighting design is fashion. As with fine textiles, the objective is to take a 2 dimensional material, and make it appear three dimensional. Using sheets of scientifically engineered surface material that possess a playful presence, this material is cut, folded, perforated and shaped to appear ever-changing from different perspectives. Using the raw material of light, Slamp's colors and shapes, character and charm, dress an entire space in halogen or LED lighting.
Founded in 1994 by former fashion show designer Robert Ziliani. Slamp mixes a variety of styles to create sophisticated contemporary lighting. The "pearl effect" color treatment of Slamp is made entirely with an innovative digital printing process, using high-performance, non toxic, UV resistant ink, applied with a particular angle of incidence. Opalflex is a registered and patented recyclable material, luminous, with a glass-like appearance, but versatile like plastic. Cristalflex is another Slamp exclusive material, transparent and brilliant as glass. Technical knowledge along with manual skill and craftsmanship are a requirement in producing each piece in a series, that look like they were custom made. Only Italian companies possess such passion to enable multiple-produced fixtures look unique. Light is an essential element in human life.It has the ability to generate emotion, reproduce stage effects, recall brilliance and outstanding natural beauty, within an intimate, personal space.
For more information go to
Slamp - http://www.lightkulture.com/brands/SLAMP.html
VIbrant Italian LED Lighting from Slamp, Culture and Passion Meets LightKulture.com
"When my husband and I moved to America in 1998, we introduced the US market to Slamp. Most consumers are unaware of the logistics to bring lighting products into the US. At the time, smaller European companies could not easily operate in the United States. The only way many of the early Italian brands gained a foothold in the US market, was when lighting entrepreneurs took a chance on gut instinct, to navigate the path of importing products directly themselves. If their instincts are correct, the product becomes a success. As demand grew for Slamp, they were able to contract with a national distributor to stock their goods in the US. As the brand acceptance was successfully adopted in major markets, Slamp was able to set up its own warehouse and headquarter operation in the United States. Slamp is now very selective on who represents their brand. Only those retail stores and online shops who understand, appreciate, foster and champion the brand, can offer Slamp to their customers. I'm proud of our 17 year relationship with Slamp and the magical brand they have become, noted Susan".
About LightKulture.com
At LightKulture.com, our mission is to offer the finest energy efficient contemporary lighting and light fixtures from around the world. We have assembled an exciting collection of the industry's most innovative decorative and architectural lighting.We are proud to offer lighting solutions for both your home and work-life environments. Simplicity in design is complicated, function makes it last. Be inspired by our range of essential designs from well respected American and European manufacturers. In today's world, energy efficient lighting is as important as eco-friendly or green lighting fixtures, such as LED or CFL lighting. We offer the very best energy efficient lighting and light fixtures, both high value LED lighting fixtures and CFL lighting fixtures in modern and contemporary styles that provide quality, innovation and authenticity.
LightKulture
http://www.lightkulture.com/
Email. sales(at)lightkulture(dot)com
Tel. 941-330-0422