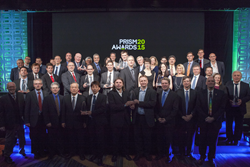 Our Prism Awards honor the companies and individuals who bring the best of these new products to market.
BELLINGHAM, Washington, and PITTSFIELD, Massachusetts, USA (PRWEB) September 28, 2015
Entries are being accepted through 9 October for the prestigious 2016 Prism Awards for Photonics Innovation. The international competition honors new technology and product inventions from the multi-billion dollar optics and photonics industry, and is sponsored by SPIE, the international society for optics and photonics, and Photonics Media.
The awards celebrate creativity and persistence as well as the versatility of photonics, said SPIE CEO Eugene Arthurs.
"As we have celebrated the International Year of Light and Light-based Technologies around the world throughout 2015, there have been examples at every turn of new photonics-enabled applications that change individual's lives and solve society's challenges," Arthurs said. "It is inspiring to see so much insightful research applied not only to the increase of human knowledge, but in the form of new products and processes that save lives, secure our communities, enrich communication across the planet, drive sustainable lighting and energy sources, and enhance education around the world. Our Prism Awards honor the companies and individuals who bring the best of these new products to market."
The Prism Awards boost visibility and credibility for companies with the most novel and innovative products on the market. To be eligible, products must be sold, delivered or launched between 1 January 2015 and 1 February 2016. Companies may enter one product per category. However companies may apply with multiple products. Entries are being accepted in the categories of:

Additive Manufacturing
Alternative Lighting
Biomedical Instrumentation
Detectors and Sensors
Displays
Imaging and Cameras
Industrial Lasers
Materials and Coatings
Optics and Optical Components
Optical Communications
Other Metrology Instrumentation
Scientific Lasers.
Finalists will be announced in November. Winners will be announced 17 February 2016 at a gala banquet held during SPIE Photonics West in San Francisco, California.
The competition is judged by an independent panel of industry experts including innovators from top companies, leaders in academia, business developers, previous award winners, financial experts, and other photonics industry leaders.
Past winners have collected more recognition since last February's presentation of the 2015 Prism Awards. Among them:
The Seek Thermal Camera developed with Raytheon earned high marks in a review of the smartphone heat-vision camera attachment in the Wall Street Journal.
Raman spectroscopy technology developed by Verisante has shown to be a life-saving tool in noninvasive removal of tumors, as reported by BBC News.
Hyperspectral video technology commercialized by Rebellion Photonics was featured on CBS News as a tool to detect methane leaks in the oil and gas industry.
About SPIE
About SPIE
SPIE is the international society for optics and photonics, an educational not-for-profit organization founded in 1955 to advance light-based science and technology. The Society serves nearly 264,000 constituents from approximately 166 countries, offering conferences and their published proceedings, continuing education, books, journals, and the SPIE Digital Library in support of interdisciplinary information exchange, professional networking, and patent precedent. SPIE provided more than $4 million in support of education and outreach programs in 2014. SPIE is a Founding Partner of the International Year of Light and Light-based Technologies and a Founding Sponsor of the US National Photonics Initiative. http://www.spie.org
About Photonics Media
Photonics Media, a brand of Pittsfield, Mass.-based Laurin Publishing Co. Inc., publishes Photonics Spectra, BioPhotonics, EuroPhotonics, Photonics Buyers' Guide and Photonics.com. With a collective subscriber base of more than 150,000 worldwide and more than 4 million unique website visits per year, Laurin Publishing's Photonics Media products and publications lead the photonics industry with editorial excellence and integrity ― fostering a tradition of innovation and progress by sharing knowledge, insights and visions for the future. More information at http://www.photonics.com