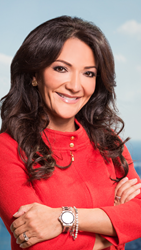 We are driving innovation and growth in the workforce solutions space. - Nina Vaca, Chairman & CEO, Pinnacle Group
Dallas, Texas (PRWEB) September 30, 2015
Nina Vaca, Chairman and CEO of Pinnacle Group, has been named to the "Global Power 100 – Women in Staffing," the Staffing Industry Analysts' (SIA) inaugural list showcasing an international cadre of women at the forefront of the staffing world. The list recognizes women around the globe who are thought leaders, who share the passion for promoting and shaping talent, and who are influencing the staffing industry.
Vaca was named specifically to the "North America 50." With offices across the U.S. and Canada, Pinnacle Group is a workplace powerhouse with a suite of business lines designed to cultivate, procure, deliver and process the human capital that companies need now.
Under Vaca's leadership, Pinnacle Group has become one of the largest and fastest growing firms in its industry, winning a place on the Staffing Industry Analysts' lists of fastest growing firms for seven years.
"Pinnacle is proud to be among the amazing women on the SIA's esteemed list. Together we are driving innovation and growth in the workforce solutions space," Vaca said. "At our core, we are in the business of people. We seek to make our entire team as empowered and productive as possible."
"These women are game changers, people who have taken their operations to a whole new level," said Sudadhra Siriam, Editor and Publisher of Media Products, SIA's publisher. SIA created The Global Power 100 to place a spotlight on women's contributions to the industry worldwide.
Vaca is Chairman Emeritus of the U.S. Hispanic Chamber of Commerce and Chairman of the USHCC Foundation. She is an inaugural member of the Presidential Ambassadors for Global Entrepreneurship. In this capacity, she traveled with U.S. Secretary of Commerce Penny Pritzker to Accra, Ghana for two days of mentorship and workshops with entrepreneurs. She also serves on the Boards of Comerica Bank, Kohl's Corporation and Cinemark.
Pinnacle Group is a leading workplace solutions provider offering staffing and consulting services, payrolling and IT compliance, and is a managed services provider throughout North America. It owns Provade, a Vendor Management Software (VMS) serving Pinnacle clients' full range of contingent workforce needs in 60 countries across languages and currencies.