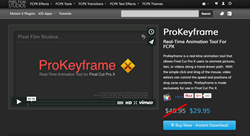 This is a great tool to help users editing.
Aliso Viejo, CA (PRWEB) September 29, 2015
ProKeyframe is a real-time animation tool that allows Final Cut Pro X users to animate pictures, text, or videos along a hand-drawn path. With the simple click and drag of the mouse, video editors can control the speed and positions of drop zone contents. ProKeyframe is made exclusively for use in Final Cut Pro X.
ProKeyframe allows drop zone contents to be animated to the speed and orientation of a path drawn by any video editor. Simply toggle on the "Time-Based" path checkbox to trigger real-time animation functions. Alternatively, uncheck this box to animate contents at a constant speed.
ProKeyframe's "Align Angle" feature automatically rotates drop zone contents to match the angle of the path. Animating objects that move along paths such as cars, animals, or arrows has never been easier. Simply insert media into the drop zone and toggle the checkbox.
With ProKeyframe, animating media to the beat of music or sound effects is an absolute breeze. First, playback a song several times to get into rhythm. Next, create a path by clicking and dragging the mouse into different directions to the beat of the music & toggle on time-based path. ProKeyframe will do the rest.
ProKeyframe's time-based functionality, angle alignment options, and path smoothness control allow Final Cut Pro X users to get creative. Easily animate automobiles or airplanes on a map, create "draw-on" effects, and even move objects to the beat of music. The options are endless with ProKeyframe, a FCPX Effect.
Established in 2006, Aliso Viejo, California-based Pixel Film Studios is an innovative developer of visual effects tools for the post-production and broadcast community. Their products are integrated with popular non-linear editing and compositing products from Apple FCPX. Apple, the Apple logo, Mac OS X, and Macintosh are registered trademarks of Apple Inc. in the U.S. and/or other countries. All other trademarks and trade names are the property of their respective owners.