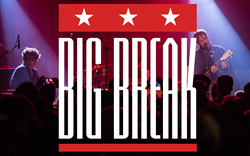 You have to be awesome to win!
NASHVILLE, TN (PRWEB) September 29, 2015
Local music powerhouses Mercy Lounge, independent radio station, WRLT Lightning 100, BMI and OmniSound Studios are looking for the most talented artists or bands in Nashville and across the land to compete for the largest concert competition prize package in history. Never before have so many new artist showcases united together to find Nashville's top artists and have them perform together, then selecting only one deserving to receive the Music City Big Break!
Submissions are now being accepted from musicians, artists & bands. Only fifteen (15) of the best "up & coming musical acts" will compete for a prize package valued at more than $50,000 dollars. This unprecedented awards package includes everything, but the major record deal, featuring: (3) Days Pre-production Writer's Retreat, (2) days rehearsal, (5) days recording studio with engineer at OmniSound Studios, final mixing & mastering, professional music video, touring merchandize, CD's, a new website, "Lightning 100 - Artist of the Week", additional radio airplay, major festival slots, mini-tour, and much more. NO strings attached!
The Music City Big Break Concert Series features three (3) preliminary showcases to be held November 17th, 24th, and December 1st, 2015. From those performances, four (4) artists will be selected to perform on December 11, 2015, where one artist will be selected. Winner chosen through a 50/50 combination of Selection Advisor Judging and direct audience fan voting. Advanced artist ranking, fan voting data, and marketing analytics made possible by leveraging mobile applications and artist submissions technologies powered by Muzooka.Visit http://www.muzooka.com
Music City Big Break's industry powerhouse artist selection committee includes Phin Daly, Founder of Marathon Music MGMT, Steve Robertson, SVP A&R for Atlantic Records, Mark Mason, Executive Director of Artist/Writer Relations at BMI, & Lt. Dan Buckley, Programming Director Lightning 100, The committee also consists of a select number of Nashville personalities, industry insiders, and veteran artists. All events hosted by new music tastemaker, Ward Guenther of Whiskey Jam. http://www.whiskeyjam.com
All submissions are due by midnight on October 31, 2015. All fifteen (15) finalists will be announced, November 3rd. All Artists must be available to perform a minimum of two shows, one of the scheduled preliminary dates abpve and the mandatory finals event, December 11, 2015. All applicants must pay a $25 registration fee and submit via http://www.MusicCityBigBreak.com.
About Lightning 100 - The Sound of New Nashville
Independent Artists turn to Lightning 100. Driven by its mission to put the new artist first, the station has grown tremendously since its 1990 relaunch as Radio Lightning, serving new musicians worldwide for past twenty five years, playing on Lightning 100 years before ever reaching mainstream radio. Selected artists include Sheryl Crow, John Mayer, Train, David Gray, Coldplay, Dave Matthews, Jack Johnson, Alabama Shakes, The Weeks, Caitlin Rose, Jason Isbell, & Moon Taxi. http://www.lightning100.com
About BMI - Broadcast Music, Inc.
Broadcast Music, Inc.® (BMI®) is a global leader in music rights management, serving as an advocate for the value of music. BMI represents the public performance rights in more than 8.5 million musical works created and owned by more than 650,000 songwriters, composers, and music publishers. The Company negotiates music license agreements and distributes the fees it generates as royalties to its affiliated writers and publishers when their songs are performed in public. Visit http://www.bmi.com
About OmniSound Studios
OmniSound Studios has been one of Music City's top recording facilities for over 25 years. With a rich history of working with the industry's top artists, producers, engineers & musicians. Located on Music Row, Omni has recorded an array of historic albums, from Miranda Lambert's Kerosene and Crazy Ex-Girlfriend, Jewel's Pieces Of You and Porter Wagoner's Wagonmaster. Other clients: Taylor Swift, Blake Shelton, Kelly Clarkson, Hot Chelle Rae & Luke Bryan, many others. Visit http://www.omnisoundstudios.com
About Mercy Lounge
Committed to supporting music and emerging artists from Nashville and beyond, Mercy Lounge has hosted thousands of live music events since 2003. This legendary venue continues its dedication to support up-and-coming artists in 2015 with Music City Big Break, its tradition of quality showcase events, providing a forum for music icons and today's hottest new talent to connect with music fans in a truly intimate and legendary setting. Since the beginning, Mercy Lounge has been a first tour venue for most of the mainstream music community. Visit http://www.mercylounge.com.
Press & media inquiries, please contact: press@musiccitybigbreak.com