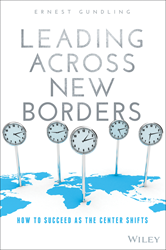 "The world's economic center is rapidly shifting towards markets that have 'emerged' like China, India and Brazil, and global professionals need strategic insights to adapt," notes author Ernest Gundling, Ph.D.
Oakland, CA (PRWEB) September 29, 2015
Aperian Global today announced the publication of "Leading Across New Borders: How to Succeed as the Center Shifts" (Wiley), a new global leadership book by co-founder Ernest Gundling, Ph.D., and colleagues Christie Caldwell (Director of Consulting, Asia-Pacific) and Karen Cvitkovich (Senior Consultant).
"Business today operates in an increasingly global context, so tomorrow's leaders must learn to see through the eyes of others, and truly understand their customers and colleagues across borders," remarked Dr. Gundling. "The world's economic center is rapidly shifting towards markets that have 'emerged' like China, India and Brazil, and today's global professionals need strategic insights to adapt."
Leading Across New Borders empowers leaders with the skills they need to conquer the challenges of today's increasingly complex multinational business environment such as managing inclusively; integrating acquisitions; innovating across borders; and running a matrix team.
Beyond the core competencies, skills and characteristics needed to produce better results, the book provides first-hand, immediately applicable direction for interaction with worldwide colleagues, empowering readers to lead with insight and confidence, helping readers to:

Combine cultural awareness with their professional field of expertise
Move from outmoded outsourcing models to leveraging global talent
Position a global matrix team for high performance
Lead inclusively across multiple aspects of global diversity
Integrate global mergers or acquisitions
Innovate across borders
Make ethical choices for a sustainable future
Find their own center as a global leader with an eye to past, present, and future
New imperatives like these will help leaders better understand and navigate cultural, market and management differences. And to show how vitally these differences can impact businesses, brands and the ways we manage, the book cites a wide range of cases, including:

3M's Water Filtration Business in China – how a global innovation leader has grown rapidly in a key market by strategically responding to its changing development phases and market needs;
Daimler-Benz AG's failed acquisition of Chrysler – how a $39 billion investment and five years of integration efforts crumbled, due largely to the companies' insufficient advance knowledge of one another's contrasting national and organizational cultures;
Unilever and Ethical Standards – how Unilever has partnered with the Rainforest Alliance to certify African farms growing its famous tea brands (including Lipton) based on environmental and social criteria. With priceless CSR value, the initiative provides a model for how two global organizations can partner effectively on a shared mission.
Learning from multinational examples like these, leaders will better navigate emerging organizational structures such as the matrix team, and succeed by more effectively integrating voices from colleagues around the world to serve diverse stakeholders across geopolitical and cultural borders.
Leading Across New Borders reveals a new leadership paradigm for a globalized world and workforce, showing managers how to adapt amid diverse cultures and economies, crossing borders into new geographies, social realities, and mental models. With this dynamic approach, any leader can achieve their most critical business and organizational goals - from market share, to innovation, to meeting basic human and environmental needs - as the world's economic center continues to shift.
ABOUT THE AUTHORS:
Ernest Gundling, PhD, is Managing Partner at Aperian Global, a consulting firm he co-founded in 1990, that now offers global talent development solutions to 15,000 people a year in more than 15 languages and 60 countries. Based in the San Francisco Bay Area (Oakland), Dr. Gundling acts as a Senior Asia specialist, assisting clients in developing strategic global approaches to leadership, organization development, and relationships with key business partners. He coaches executives with global responsibilities and works with multicultural management teams to help formulate effective business plans. He is a frequent contributor to such publications as California Management Review, Training Magazine, Mobility, and Advances in Global Leadership, and has written/coauthored four previous books including: What is Global Leadership?, Working GlobeSmart, Global Diversity, and The 3M Way to Innovation. Dr. Gundling holds a Ph.D. and a Master of Arts from the University of Chicago, and a Bachelor of Arts from Stanford University.
Christie Caldwell (coauthor) is Director of Consulting for Asia-Pacific at Aperian Global where she is responsible for Global Talent Development solutions for Global 500 companies across the region. Christie drives thought leadership and innovative approaches to support clients' global talent development needs. Based in Shanghai, she conducts research and writes regularly on topics related to globalization, and leadership development for high potentials in fast-growth markets. Christie earned a Masters Degree from Harvard University, and completed a Masters Program at Johns Hopkins School of Advanced International Studies.
Karen Cvitkovich (coauthor) is a Senior Consultant with Aperian Global, and has worked as an intercultural consultant, facilitator, and coach for nearly two decades. She has counseled clients in the areas of global leadership, teams, negotiations, diversity and inclusion, change management and post-acquisition integration. She holds a M.S. from Lesley University and a Bachelors of Business Administration from the University of Massachusetts. In addition, she is certified in CTI Coach Training, Neuro Leadership and in various psychometrics. Currently based in Boston, Karen also co-authored What is Global Leadership?
ABOUT APERIAN GLOBAL:
Founded in 1990, Aperian Global provides consulting, training, and online learning tools for global talent development, partnering with clients in more than 62 countries in the past year alone (with some 170+ Consultants and 4,000+ Country Specialists delivered over 1,800 training workshops in 15 languages). Aperian Global's GlobeSmart® is the industry-leading online cultural intelligence tool, focused on how to conduct business effectively around the world. It has been used by over 800,000 individuals with more than 160 organizations and universities worldwide. Aperian Global offers global talent development solutions, including consulting, design and delivery, to one third of the Global Fortune 100. The firm has pioneered the development of blended solutions that use online learning to enhance instruction, while integrating global reach, thought leadership, and innovative technology to address the needs of clients worldwide. Visit http://www.aperianglobal.com.
ABOUT THE BOOK:
LEADING ACROSS NEW BORDERS: How to Succeed as the Center Shifts
Authors: Ernest Gundling, Christie Caldwell, and Karen Cvitkovich
Publisher: Wiley
Publication Date: September 29, 2015
Price: $30.00 Hardcover; 224 pages
ISBN-13: 978-1119064022
Website URL: http://www.aperianglobal.com/leading-across-new-borders
Video Link: LeadingAcrossNewBorders.VideoPreview
ADVANCE PRAISE:
"Understanding context and building self-awareness are two of the cornerstones of successful leadership in our inter-connected world, where executives increasingly have to work outside their home cultures. Leading Across New Borders provides compelling anecdotes, frameworks and practical tools for better understanding context and building self-awareness for the global leaders of tomorrow." —Rajiv Ball, Partner, THNK School of Creative Leadership