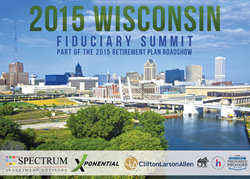 Spectrum's goal is to help plan sponsors implement innovative and leading edge solutions into their plans that ultimately help plan participants become retirement-ready
Milwaukee, WI (PRWEB) September 30, 2015
Xponential Growth Solutions is pleased to announce the 2015 Wisconsin Fiduciary Summit in partnership with Spectrum Investment Advisors. This Fiduciary Summit will bring together both local and national experts to interact with employers made up of plan sponsors, fiduciaries, business owners, as well as finance, human resource, and benefit executives. Speakers will provide insights to help employers reduce fiduciary risk, identify plan upgrades, and make better decisions that positively impact participants.
Manuel Rosado, Vice President and Partner at Spectrum Investment Advisors, Inc. emphasizes, "By bringing together national and local leaders in the retirement plan industry, Spectrum's goal is to help plan sponsors implement innovative and leading edge solutions into their plans that ultimately help plan participants become retirement-ready."
Manuel contiues to assert that, "In today's age of disclosure, transparency, and litigation, it's imperative that plan sponsors have a strong fiduciary process in place. The tools and ideas shared at the Fiduciary Summit will provide employers with a roadmap to strengthen their policies and procedures."
The educational event will be hosted by Spectrum Investment Advisors, headquartered in Mequon, Wisconsin. Additional speakers include nationally known ERISA expert Fred Reish and employee educational specialist Diane Gallagher. Fred is recognized for his knowledge of fiduciary responsibility, technical compliance matters, and litigation issues. Diane is renowned for her expertise in retirement and employee communications, and practice management and strategy.
Speakers Include:

Terry A. Halfman, CPA, Principal – CliftonLarsonAllen
Fred Reish – ERISA Expert, Partner – Drinker & Biddle
Diane Gallagher, VP DCIO Practice Management – American Century
Topics of Discussion:

What Every Fiduciary Needs to Know for 2015 & 2016
Financial Wellness & Retirement Readiness
Past, Present & Future of Retirement Plans
Retirement Trends Panel
RFI & RFP Best Practices
The 2015 Wisconsin Fiduciary Summit is the 15th stop of the Retirement Plan Road Show and will be held on November 5, 2015 at Wisconsin Club's Country Club located at 6200 West Good Hope Road, Milwaukee, WI 53223 from 11:00 am to 3:00 pm (lunch will be served). The Wisconsin Fiduciary Summit is approved for 3 hours of CPE/CPA credits, HRCI/SPHR general credits, and 3 SHRM Professional Development Credits (3 PDCs). Additional details and registration information can be found using the link below. Seating is limited and priority will be given to local plan sponsors, with a waived $150 registration fee available on a limited basis. For additional event details, overview of our Elite Retirement Consultants and link to register, please visit:
http://xgrowthsolutions.com/retirement-events/2015/11/2015-wisconsin-fiduciary-summit/
About Spectrum Investment Advisors
Spectrum Investment Advisors, Inc. was incorporated in 1995 as a Registered Investment Advisor registered directly with the SEC. Spectrum Investment Advisors is built on the premise that achieving your financial goals depends on independent financial advice, timely research, and easy access to the investments and services that best fit your specific needs. The tagline, "Colors Simplify Investing®", represents the uniqueness of Spectrum's education process and the ability of communicating with participants from all different industries and backgrounds.
The patented Spectrum Investor® Communication Process uniquely qualifies Spectrum to provide retirement consulting services through the use of the simplicity of colors to communicate investing. Spectrum has developed their own color-coded communication materials to educate participants and empower them in the selection and ongoing monitoring of their investment options.
PLANSPONSOR has selected Spectrum Investment Advisors as a finalist for the "2015 Retirement Plan Adviser Team of the Year" for the second year in a row. PLANSPONSOR reviewed over 40 companies each in the advisor and advisor team categories nationally and selected nine finalists. Spectrum has also been nominated for "The National Association of Plan Advisors (NAPA) 2015 401(k) Advisor Leadership Award." Now in its eight year, the prestigious NAPA 401 (k) Advisor Leadership Award recognizes leadership, innovation and contributions to the retirement plan industry with sales, marketing and establishment of 401(k) plans.
About Xponential Growth Solutions
Xponential Growth Solutions (XGS) unites 401(k), 403(b) and retirement plan sponsors with elite resources and exclusive connections. Through research, fiduciary summits, and industry expertise, they help the nation's retirement plan sponsors, fiduciaries, and trustees evaluate their plan and navigate the retirement plan industry. Working to help America reach their retirement goals one retirement plan at a time, XGS also founded the Retirement Plan Road Show, a national series of fiduciary educational summits dedicated to human resources, finance and business professionals in charge of America's 401(k), 403(b), and retirement plans.
Registration does not imply a certain level of skill or training.