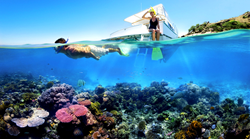 It was very gratifying to see US officials talking part in the celebrations and having Secretary of State John Kerry send congratulations on behalf of President Obama
San Ignacio, Belize (PRWEB) October 01, 2015
Belize's month long September independence celebrations ended with affirmations of the close ties between Belize and the United States, as well as good news for tourism with the announcement of infrastructure upgrades and a new international airport, according to The Lodge at Chaa Creek.
Chaa Creek's marketing administrator Roberto Harrison said such affirmations and the news of upgrades were welcomed by Belize's growing tourism industry.
"Our close relationship with the US has always been important to Belizeans, so it was very gratifying to see US officials talking part in the celebrations and having Secretary of State John Kerry send congratulations on behalf of President Obama.
"And hearing our own Prime Minister announce a new international airport and other upgrades was icing on the cake. With exuberant and peaceful parades, the carnival and other events, it was a great month that reflected the growth and maturity Belize has enjoyed since independence in 1981," Mr Harrison said.
As reported in the September 27, 2015 edition of Caribbean Life, US Secretary of State John Kerry sent a message of congratulations to the people of Belize and hailed the two countries' "partnership and bilateral work."
Earlier in the month, US Ambassador Carlos Moreno took part in kicking off the independence celebrations by delivering a featured address to a record crowd at the annual Expo Belize, Mr Harrison noted.
"Ambassador Moreno's participation, and then the message from Secretary of State Kerry on behalf of President Obama certainly added to September's excitement," Mr Harrison said.
A US State department media release quoted Mr Kerry as saying, in part;
"On behalf of President Obama and the people of the United States, I congratulate the people of Belize as you celebrate the 34th anniversary of your nation's independence on September 21.
"Our partnership and bilateral work in the region can only serve to strengthen our relationship – a relationship built on trust and mutual respect.
"I offer my heartfelt congratulations and warmest wishes for continued prosperity as you celebrate your Independence Day."
Mr Harrison said, "Such sentiments mean a lot to Belizeans. With so many Belizeans living in the US, and with a substantial, growing American community here, it's a very important relationship, and this official recognition goes a long way in acknowledging that special bond."
Mr Harrison said another highlight was a national address by Prime Minister Dean Barrow, when he pledged government support for a new international airport on the popular Caribbean island of Ambergris Caye, near Belize's Great Barrier Reef.
"Besides the tangible benefits of ease of travel and being able to comfortably accommodate more travellers, a new international airport signals growing worldwide confidence in Belizean tourism. We've seen more international flights and enhanced domestic air service this year, all of which shows greater tourism industry confidence here and abroad.
"You couldn't ask for a better independence day presents," Mr Harrison said.
The Lodge at Chaa Creek is a multi award winning eco resort set within a 365-acre private nature reserve along the banks of the Macal River in Belize.
ENDS