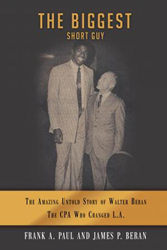 It is not an understatement to say that Los Angeles and a great number of its residents would not be where they are today if a small, poor, orphaned boy from Texas named Walter had not called their city home ...
Capistrano Beach, CA (PRWEB) September 30, 2015
Within the pages of Frank A. Paul and James P. Beran's new book, The Biggest Short Guy, ($13.99, paperback, 9781498438063; $22.99, hardcover, 9781498438070; $6.99, e-book, 9781498438094) readers will discover, "The Amazing Untold Story of Walter Beran, The CPA Who Changed L.A." Walter Beran was a man who arguably shaped the soul of Los Angeles more than any contemporary from the 1970s-1990s. To accomplish this as a city official, philanthropist or entertainer would not be surprising. To accomplish this as an accountant is almost unbelievable. And yet that was the primary channel through which he repaired and enlightened a community fractured along unjust racial, religious, and societal lines.
This fascinating new book about Walter Beran, tells his story from the time he was saved by grace at the age of one when his father murdered his brother-in-law and almost killed his mother yet spared young Walter. Once more he was saved by grace at the age of 18. He was one of the few men pulled from the freezing waters of the English Channel Christmas Eve 1944, when his troupe ship, The Leopoldville, was torpedoed by a German Sub.
From picking cotton as a young boy in a small Texas town and raised by the town folk, Walter would go on to become the unspoken leader in the Los Angles business community. As Vice Chairman of Ernst & Young, and one of the three original Executive Committee Board Members of the Ronald Reagan Presidential Library and Foundation he worked tirelessly to open the City's elite institutions to all and bring the diverse elements of the community together.
A friend and advisors to some of the country's top business leaders and Presidents, and despite the constant demands on his time, Walter found time for everyone no matter their status or calling in life. But most importantly he would always find time for his family and the love his life, his wife Speedy, writing her thousands of remarkably deep and love felt letters every night he was away. Walter was led by his unshakable faith in God, his love of his family and fellow man, and his never ending efforts in championing personal and business ethics as the cornerstone of a joyful life and a great society.
James P. Beran is the youngest son of Walter Beran. This endeavor is very meaningful and significant as it follows his dad's legacy of sharing and giving back to one's community. The authors share special stories and true-life photos of this great man ¬– shown with U.S. presidents, athletes and seen in some nostalgic locations – sure to impact and inspire every reader, and serves as a guide for life and leadership.
Xulon Press, a division of Salem Communications, is the world's largest Christian self-publisher, with more than 12,000 titles published to date. Retailers may order The Biggest Short Guy through Ingram Book Company and/or Spring Arbor Book Distributors. The book is available online through xulonpress.com/bookstore, amazon.com, and barnesandnoble.com.
Media Contact: James P. Beran
Email: jpberan(at)yahoo(dot)com