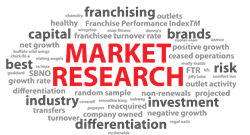 Healthy franchise systems in our sample grew by a minimum of 4.1% per year since 2008. This is 4 times the industry average!
New York, NY (PRWEB) October 06, 2015
FranchiseGrade.com released their latest report: A Seven Year Study of Franchising Trends From 2008 – 2015.
The analysis was based upon a sample of 243 franchise systems or 10% of the FranchiseGrade.com database of 2400 franchise systems which represented 266,195 franchise outlets, or 62% of all outlets at the beginning of 2015.
To qualify for inclusion in the study franchise systems had to be operational for at least 7 years.
A key finding of this study is that it identifies the importance of differentiating between healthy and unhealthy franchise systems. This is valuable information; for prospective franchisees because it enables them to identify healthy franchise systems for investment and for franchisors because it provides them with an opportunity to follow best practices necessary for success.
Commenting on the seven year study Jeff Lefler, CEO of FranchiseGrade.com stated: "We see some interesting results and a pattern that's emerged over the last seven years showing that there is a healthy and vibrant side to franchising." Lefler continued: "However there is also a segment of the franchise industry that includes some unhealthy franchise systems affecting overall industry health and impacting the perception of franchising by the public."
Stratifying the sample allowed FranchiseGrade.com to identify healthy and unhealthy franchise systems. Within the sample there are 164 healthy franchise systems that grew by +48,492 outlets and 79 unhealthy franchise systems, that despite opening 28,730 outlets had net growth of -22,856 from 2008 to 2015.
Lefler Commented: "In other words, 67.5% of the franchise systems in our sample had positive growth, while 32.5% had negative growth. Healthy franchise systems in our sample grew by a minimum of 4.1% per year since 2008. This is 4 times the industry average!"
Click here to download the full report.
About FranchiseGrade.com
FranchiseGrade.com is the #1 market research company in franchise industry. It has the most comprehensive research platform in the industry capable of real-time benchmarking, research and analysis of 2,800 active franchise systems. FranchiseGrade.com has a broad client base which includes; prospective franchisees, franchisors, private equity groups and academic institutions.