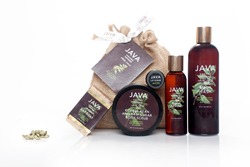 JAVA is the first skin care line on the market to add antioxidant-loaded organic green coffee as a signature ingredient.
Wickford, RI (PRWEB) September 30, 2015
Today, in a tribute to International Coffee Day, JAVA Coffee Infused Skin Care, a 23 month old indie beauty start-up and maker of an eco- luxury, all natural skin care line featuring organic green coffee, has announced that it will introduce an all new product line in October 2015 for face and décolletage.
"We have been overwhelmed by the reception so far from the spa and beauty industry to our antioxidant-rich green coffee infused body collection, "says Stephanie Additon, CEO of JAVA Coffee Infused Skin Care. "I am thrilled to be able to announce on International Coffee Day that JAVA will launch a brand new line of organic green coffee products specific for face and décolletage."
Green coffee contains significantly higher antioxidant levels than virtually any known substance on earth, and delivers unique rejuvenation properties when applied to your skin.
"JAVA is the first skin care line on the market to add antioxidant-loaded organic green coffee as a signature ingredient," says Additon. "When you combine organic green coffee, artisan roasted coffee, and organic essentials like we've done in JAVA products, the skin-firming, tightening, and smoothing benefits go through the roof. We call it 'The JAVA Effect' - - It's like a double espresso for the skin."
The beauty industry is taking note. In less than two years on the market, JAVA products are now being used as luxury spa treatments in some of the world's most prestigious spas including the Eau Spa in Palm Beach, Florida, the Fairmont Princess Spa in Scottsdale, Arizona, and the Estancia La Jolla Spa in San Diego, California as well as being featured at the 2015 Grammy Awards and this year's New York Fashion Week, where JAVA was a proud inclusion to designer and stylist of the stars Robert Verdi's celebrity gift bag.
Currently the JAVA Body line includes Body Serum, Coffee & Sugar Body Scrub, Body Wash, and an Exfoliating Bath Bar. Coming in October, JAVA will bring to market an entirely new green coffee infused eco-luxury face line, "JAVA Face", which will include an Eye Serum, Face Serum, Face Wash, Face Tonic. In addition, JAVA will round out its body collection with a super potent, antioxidant rich "Double Shot" body serum and a lip scrub.
"We can't wait to introduce JAVA Face in October, and we're convinced that these will be the last products anyone will need to keep their faces clear, supple, and radiant," says Additon.
JAVA Coffee Infused Skin Care products super-hydrate, firm and tighten your skin, reduce the appearance of wrinkles, slow the appearance of aging, project from free radicals, repair sun damage, regenerate healthy cells, help remove cellulite, and restore a youthful glow.
JAVA Coffee Infused Skin Care is an eco-luxury line of all natural products that harness the rejuvenating properties of green coffee, one of nature's most powerful antioxidants, to awaken your natural beauty. Formulated with organic ingredients that nourish, repair and protect skin, JAVA skin care products are free from animal testing, parabens, sulfates, phthalates, synthetic fragrances, harmful preservatives and artificial colors. JAVA Green Coffee is always purchased from shade grown, Rainforest Alliance certified farms and stone milled in Rhode Island. JAVA can be found in 50 luxury retail and spa locations across the country from San Diego to Nantucket. Made in the USA. Visit javaskincare.com.