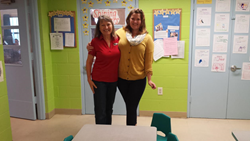 Austin, TX (PRWEB) September 29, 2015
Children at Mainspring Schools will have an even cheerier place to go to now that Fresh Coat Painters has revitalized the building through a project that put a new coat of paint on the school's doors and kitchen walls.
Fresh Coat of North Austin completed the painting projects at no charge thanks to the company's nation-wide Paint it Forward® campaign, which aims to give back to organizations and individuals making a difference in communities across the country by providing a fresh coat of paint at no charge. The painting at Mainspring was completed over the weekend, Sept. 19 and Sept. 20.
Mainspring Schools, a local nonprofit early education center, opened in 1941 as a childcare center for the children of the women working in local factories during World War II. Today Mainspring is a best-in-class nonprofit preschool that eliminates the early childhood school readiness gap. The mission is to deliver the highest quality early education and care to Austin's most economically disadvantaged children – along with services so each child and parent have tools for success in school and life.
"The kitchen and doors look amazing. Everyone keeps coming into my office and letting us know how they didn't realize how much help we needed until they saw the difference Fresh Coat made. I know that will benefit from this paint makeover in innumerable ways – it has made our school a much brighter and more beautiful environment," Mainspring's Managing Director Mandy Brooks said.
"We feel really fortunate to have been considered and chosen as a Fresh Coat Painters Paint it Forward project. Now we can spend that money on better materials, fresh produce for meals and other important things," Brooks said. "Our goal is to make sure that children are socially, mentally and emotionally ready for the world when they may not have been otherwise. A lot of the kids at our school have had a rough-go and we want to help give them the tools to succeed in school and in life."
Fresh Coat Painters is a leading residential and commercial painting company with a focus on customer service and professionalism. The company offers professional residential and commercial painting services including interior and exterior painting, wood staining and refinishing, wallpaper removal and many other services for nearly every protective coating application. They use quality, environmentally safe materials and offer a live 24/7 customer service center, online scheduling and free detailed quotes. All Fresh Coat employees are insured, trained and background checked.
Wagner opened Fresh Coat of North Austin in the spring of 2012 after 18 years at Dell. The local business serves Cedar Park, Leander, Round Rock, North Austin and the surrounding communities.
Fresh Coat provided the expertise and man-hours and the paint was donated by Fresh Coat Painter's national paint partner, Sherwin-Williams. In addition to the kitchen, doors and door jambs, Fresh Coat painted a portion of the ceiling damaged by water.
Brooks learned about the national Paint it Forward program after seeing the story about their work with Austin Pets Alive! She contacted the company's headquarters in Cincinnati, Ohio, who put her in touch with Wagner. Wagner said she was excited to be given the opportunity to help the school through Paint it Forward.
"I was excited to have the opportunity to help the school, the teachers and the children through Paint it Forward. I have two grown sons and a 3-year-old granddaughter and knowing we could do something to make a difference for children is just wonderful. I'm always humbled when we can step in and do something like this with Paint it Forward. It's awesome to see people who are so passionate about what they do. Mandy has so much energy for the school and the kids – it's rewarding to be able to help her give even more by saving her the money she would have otherwise had to spend on these projects," Wagner said.
Paint It Forward was inspired by Eric Ascencio, previous co-owner of a Fresh Coat Painters franchise in Houston, Texas. Eric had made it his mission to be an inspiration for other cancer patients and to give back to those in his community, leaving behind a legacy when he recently lost his battle with the disease. It's estimated that the job will require eight gallons of paint and 40 hours of labor, which would cost Mainspring Schools $2,760 if not for Paint it Forward.
To learn more about Fresh Coat of North Austin, call (512)796-6371, email KWagner(at)FreshCoatPainters(dot)com or visit http://www.FreshCoatNorthAustin.com.
For more information about Mainspring Schools, call (512)442-2301, email Mandy(at)MainspringSchools(dot)org or visit http://www.MainspringSchools.org.
About Fresh Coat Painters
With more than 120 locations nationwide, Fresh Coat Painters brings quality customer service, top-notch painting products, professionalism and affordable pricing to the residential and commercial painting industry. They use quality, environmentally safe materials and offer a 24/7 customer service center, online scheduling, in-home color design consultations, and detailed quotes. All painters are bonded and insured employees. For more information, visit http://www.FreshCoatPainters.com, call 1-855-FRESH-COAT or visit us on Facebook.
The company was founded in 2004 as part of Strategic Franchising Systems. In the last year, Fresh Coat has been included in the Bond's Top 100 and named to Entrepreneur Magazine's Franchise 500 list. Fresh Coat is also part of the International Franchise Association, the Small Business Association's Franchise Registry, VetFran and Minority Fran.