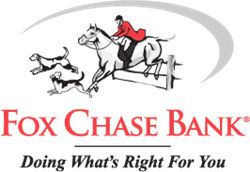 Hatboro, PA (PRWEB) September 30, 2015
On September 29th, Tom Petro, Fox Chase Bank President & CEO, was a guest on Executive Leaders Radio – the number 1 business weekly radio show in the Mid-Atlantic States and broadcast nationally on 91 terrestrial and Internet radio stations. This was Tom's 4th appearance on the show. He first appeared on Executive Leaders Radio in February 2010.
Executive Leaders Radio conducts elite interviews with prominent CEOs, CFOs, and Presidents focusing on what makes people tick. The 10 – 25 minute on-air interviews are informal positive conversations designed to help listeners learn what it takes to succeed.
Executive Leaders Radio is dedicated to honoring individuals who have risen to leadership roles through hard work and dedication. This highly popular radio program shares the stories and wisdom of leaders like Mr. Petro with a diverse listener audience with the goal of helping others achieve the level of success that the program's guests have achieved.
"It's an honor to be a guest on Executive Leaders Radio along with the other esteemed guests," states Mr. Petro. "Hopefully, what I share helps people think about achieving business success through commitment – to stakeholders, communities, employees, family and self."
Guests are asked about their background, education, influences, mentors and early career experiences. Hosts also ask guests about challenges they have faced in the past and anticipated future opportunities. A distinctive aspect of the show is when guests share interests outside of work and personal turning points -- capturing the unique human aspect behind these prominent leaders.
The webcast of Tom's interview can be heard at Executive Leaders Radio. A link to the webcast will also be shared on Fox Chase Bank's Facebook page.
About Fox Chase Bank
Fox Chase Bank serves growing middle market businesses, commercial real estate investors and depositors in the attractive markets that span Baltimore to New York City delivering on the promise of doing what's right for people. The Bank, established in 1867, is headquartered in Hatboro, Pennsylvania. It provides a comprehensive array of financial products and services through a comprehensive suite of cash management services and ten branch offices in Bucks, Montgomery, Chester and Philadelphia Counties in Pennsylvania and Atlantic and Cape May Counties in New Jersey.
###