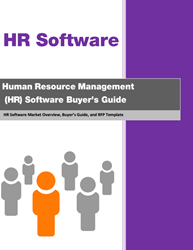 Chardon, Ohio (PRWEB) September 29, 2015
e2b teknologies (e2btek.com), an ERP consulting and development firm in Northeast Ohio, today announced new resources and tools to help business executives better understand the current market for human resource management software and streamline the software and vendor selection process.
The Human Resource Management Buyer's Guide touches on many topics including an in-depth market overview, summary of HR software benefits, profiles of key software products and vendors, projected ROI of HR management software, implementation best practices, how to increase user adoption, and additional information to help businesses select, implement, and use human resource management software.
The HR Management Software Request for Proposal (RFP) Template is delivered within the Buyer's Guide to help companies streamline and organize the software and vendor evaluation process. The template includes a comprehensive list of hundreds of features available in modern human resources software. Additional sections cover various technical requirements, deployment options, vendor information, and more.
The Human Resource Management Resource Library provides additional white papers, educational videos, product demonstrations, product overviews, and other resources that outline the various products available for Sage ERP and Epicor ERP systems.
"Selecting software can be a daunting task that requires a significant investment of time into researching the many vendors and systems on the market," said Lynne Henslee, President of e2b teknologies. "We published these resources to create a single source of information that provides businesses with the tools they need to make an educated choice about their software and maximize project ROI, without spending countless hours looking for current product information online and building an RFP from square one."
Click here or visit e2benterprise.com to access to all of the above tools, resources, and content.
About e2b teknologies
e2b teknologies is a passionate and experienced team of industry leaders and business advisers providing high quality, uncomplicated, and innovative ERP and CRM software built on modern technology platforms with turn-key consulting and custom development services. e2b teknologies develops custom cloud-based business applications and resells leading ERP accounting software, CRM, and other enterprise business software applications including Sage 100 ERP, Sage 500 ERP, Sage ERP X3, Epicor ERP, and more.