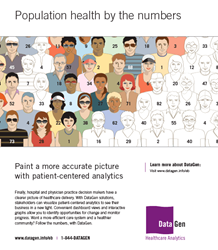 These awards are a testament to our clients' vision and openness to creative marketing that breaks out of healthcare industry norms
Troy, NY (PRWEB) October 01, 2015
Healthcare marketing agency Smith & Jones earned four honors in the 2015 Graphic Design USA Health +Wellness Awards, including branding and advertising for Ellis Medicine, Columbia Memorial Health and Datagen/Health Association of New York State.
"These awards are a testament to our clients' vision and openness to creative marketing that breaks out of healthcare industry norms," Strategy Director Mark Shipley said. "We love to do great design work for our clients and, of course, we appreciate the recognition of our creative peers."
GD USA's Health + Wellness Design Awards is a competition that honors design and marketing created by design firms, ad agencies and other institutions representing a variety of health and wellness organizations nationwide. Over 1,000 entries were submitted, with only 125 winners across 17 different categories.
Smith & Jones was presented Health + Wellness Design Awards in three categories and won for two separate campaigns in the advertising category; Columbia Memorial Health for Corporate Identity and Branding; Columbia Memorial Health for POP, Signage and Exhibits; Datagen/HANYS Becker's for Advertising Campaign; and Ellis Medicine's 518-Docs Advertising Campaign.
The branding campaign for Columbia Memorial Health (CMH) features the promise of, "fresh care, delivered daily." The lush palette of rich greens, blues and ochres represent the natural beauty of Columbia and Greene counties, with photography that represents the active, outdoor lifestyle that many residents enjoy. 
The campaign included in-hospital signage, exterior banners, fleet graphics and online advertising. Innovative transit advertising included graphics for toll gate arms and hanging banners on the Rip Van Winkle Bridge, a major transportation hub that connects the health network's two main patient markets: New York's Columbia and Greene Counties.
Exterior banner designs, signage for CMH, also won an award for their innovative look and feel across the hospital's campus. The advertising campaign for Datagen's custom analytics dashboards was designed to resonate with healthcare leaders in need of insights from population health data. Images were designed to visualize patient-centered analytics and an effective accountable care model.
The 518-Docs advertising campaign for Ellis Medicine was created in response to healthcare reform initiatives and to counter increased regional competition. The campaign helped drive patient volume to Ellis Medicine's find-a-physician service with a memorable and humorous headlines, and a strong call to action and that allows Ellis to own the region's area code number 518.
ABOUT SMITH & JONES
Smith & Jones is a healthcare marketing agency based in Troy, NY, that specializes in creative marketing strategies to help healthcare organizations, hospital systems and large physician practices align stakeholders, increase patient volumes and measure impact. Learn more at http://www.smithandjones.com.
Contact
Mark Shipley
Smith & Jones
Healthcare Marketing
518-272-2500
markshipley(at)smithandjones(dot)com
@smithandjones1