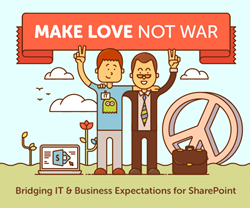 Boston, MA (PRWEB) September 30, 2015
The Beezy and CardioLog Analytics teams are happy to announce they will be joining forces for an upcoming webinar on bridging the gap between IT and Business users in SharePoint. The webinar will be focused around the idea of "Make Love not War", a common phrase, yet not too often heard in the SharePoint community.
When IT and business stakeholders join forces, the possibilities for increased productivity and connectedness grow exponentially. The alliance of IT and Business will not only lead to an enhanced user-centric experience, but also ensures that bridges are built and roadmaps aligned between business goals and IT objectives.
Many organizations face the reality of a less than successful SharePoint project, often times due to the lack of unity between senior management and IT. Join this webinar to discover how collaboration tools and analytics can transform the way enterprises approach SharePoint and their overall collaboration engagement.
To register,click here.
About Intlock
Intlock was founded in 2005. Ever since, it has been a leader in analytical solutions for SharePoint Intranets and Internet websites. As the company's flagship product, CardioLog Analytics set Intlock apart and put it ahead of the competition. CardioLog provides organizations with insights on how their SharePoint portal is being used, and helps optimize the portal. As organizations started to expand, so did the use of SharePoint to public facing websites. A demand grew for marketing tools designed for SharePoint, which lead to the release of the SharePoint Marketing Suite, which includes a wide range of marketing solutions for enterprise-level websites.
Today, Intlock products support all of the SharePoint versions, including the new 2013 edition. They offer a variety of insightful features and tools to help optimize portal and site productivity, as well as maximize the ROI.
Intlock, based in Boston, Massachusetts, has offices and partners throughout the world. Some of the customers utilizing these products are large worldwide enterprises such as Applied Materials, Fidelity Investments, and US Department of State. Intlock also offers a variety of packages for small business and NGO's.
For more information about this topic, please contact James Wright at +1-617-500-8461 (US) or email info(at)intlock(dot)com or james(dot)wright(at)intlock(dot)com.
About Beezy
Beezy is the premier enterprise collaboration solution for Office 365 and SharePoint, extending and improving the feature set for on-premises, cloud, and hybrid deployments. We are on a mission to transform the way people work and to help employees be more connected, innovative, and happy. Beezy is used across various industries and at a global scale by some of the world's largest organizations, such as multi-nationals Vodafone and Transocean. Beezy is a privately held software company headquartered in Silicon Valley.
Learn more at http://www.beezy.net or @FollowBeezy on Twitter.