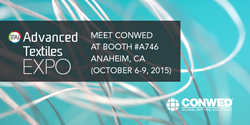 Minneapolis, Minnesota (PRWEB) September 29, 2015
Conwed, the leading plastic netting manufacturer in the world, will share its latest netting innovations at the IFAI Advanced Textiles Expo in Anaheim, CA (Booth #A746 - October 6-9, 2015). In addition to displaying its wide range of netting configurations for diverse textile and fabric applications, Conwed is launching its own line of polypropylene multifilament yarn made in the U.S. Organized by the Industrial Fabrics Association International (IFAI), this event gathers more than 5,000 decision makers and business insiders in the textiles and fabrics industry.
For almost 50 years, Conwed has been the partner of choice for product development in industrial and consumer applications. "Our netting portfolio helps reinforce and laminate diverse substrates and helps our customers create strong but lightweight composites", said Ivan Soltero, Strategic Marketing Manager at Conwed. "Now we have expanded our capabilities and manufacture high-tenacity, multifilament, polypropylene yarn in a variety of colors and weights to meet demand in the U.S."
Conwed positions itself as a local alternative for textile and fabric manufacturers to source their yarn needs. Made of polypropylene, its multifilament yarn can be manufactured in different denier measurements, ranging between 300D and 1600D with multifilament counts from 60 to 148. "Our focus continues to be our plastic netting portfolio for lamination and reinforcement applications, but our customers were also looking for an alternative to their imported yarn. Our manufacturing team offers yarn options with competitive minimum quantities and lead times", said Soltero.
For additional information about Conwed high-tenacity, multifilament yarn capabilities, visit http://www.conwedplastics.com/yarn
About CONWED
Conwed is the leading plastic netting manufacturer in the world. Conwed manufactures extruded, oriented and knitted netting with unique customization capabilities. Headquartered in Minneapolis, Minnesota, Conwed has five manufacturing locations on two continents and a global distribution network.