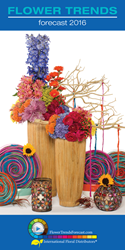 The floral professional knows just how to make a beautiful story with flowers.
(PRWEB) October 01, 2015
Floral designers use various types of flowers, colors of flowers, and design styles and techniques to make each wedding beautiful for each bride in a way that is unique and special to that bride. The flowers at this special occasion need to reflect her personality, her style, her aspirations and her dreams. The floral designer combines the worlds of fashion and lifestyle that reflect the style of the bride. The Flower Trends Forecast 2016 report details the emerging flower decorating themes emerging for weddings and events. The full report is available at http://www.FlowerTrendsForecast.com.
What's in!
Lavish, gathered from the garden is in! It is sensual and tactile. It features garden flowers grouped in loose gatherings with berries and drapey foliages. Rich in textures and filled with pinks, blushes contrasted with rich plums and crimson.
The Lustre look is rich in metallics. A rich combination of sheen and sparkle where while and ivory flowers are a stark contract to all the luxe alloys. Gold, silver, copper, platinum bronze and rose gold can all be mixed to provide this trendy luxe look.
The Sorbet event is modern and lively. This color palette features lemon-yellow and adds to it rich blue, coral, spring green and powder blue. Sorbet is bright and sassy and uses geometric accents to contrast with peonies, dahlias, ranunculus and tulips.
Festival is born of hot, intense colors inspired by global hand-crafts. The Festival bride plans her event as an extension of her quirky and casual personality. Flower choices for Festival include bright yellow sunflowers, dark blue delphinium, orange gerbera daisies and bright red roses. Accents are hand-crafted and feature natural textural elements.
The full report is available and includes the types of flowers, colors of flowers, the flower design styles, bridal bouquet styles, decorating accessories and color palettes of the top emerging trends. Video detailing the emerging themes, flower and styles will be released throughout the year at http://www.FlowerTrendsForecast.com.
Flower Trends Forecast is annual publication of International Floral Distributors and is made possible with the support of the IFD Distributors, Accent Décor, Candle Artisan, Design Master, FloraCraft, Pete Garcia Co., Smithers-Oasis and Syndicate Sales.
About International Floral Distributors, Inc.
Flower Trends Forecast is published by International Floral Distributors, Inc (IFD). IFD is a consortium of floral distributors with 53 locations across the United States providing quality fresh flowers and florist supplies to florists and event floral specialists. IFD is owned by 18 floral distributors who are dedicated to serving the unique needs of companies that specialize in floral products. For more information about IFD visit http://www.ifd-inc.org.