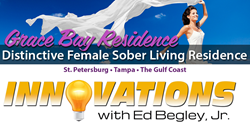 St. Petersburg, FL (PRWEB) October 01, 2015
Grace Bay Residence announced today that it will be featured in an upcoming episode of Innovations, airing this winter via the Discovery Channel.
This segment of Innovations will educate on Grace Bay Residence, an exclusive sober living residence for women. The Grace Bay Residence was designed and is operated in a manner that incorporates integrative and proactive addiction recovery services. Viewers will learn that Grace Bay Residence extends far beyond the traditional sober living or recovery home model, and is custom designed around the needs of adult females in early recovery from drug addiction and alcoholism.
Grace Bay Residence believes in the wonders of life and in the magic of the individualized recovery process. They understand each resident is a unique and special individual, and works proactively with them in a variety of ways to help them best reach new heights in life.
"At Grace Bay, we treat our clients with respect as accountable adults," said Steve Margarella, Grace Bay Residence President. "They are given almost all of the freedom they will experience in the outside world, while being held accountable by our 24/7 staff members."
"Grace Bay Residence is enhancing the early recovery process using an effective and customized non drug rehab environment that promotes success in sobriety on numerous levels," said Jake Meiteles, Producer for the Innovations TV Series. "We look forward to enlightening viewers on what Grace Bay Recovery has to offer in hopes it will help those in need."
About Grace Bay Residence:
Grace Bay is the outgrowth of the owners' 28 years of sober experience working with and helping others navigate the minefield of early sobriety. While researching sober living homes, it soon became apparent there was a need for quality, affordable sober living. Grace Bay's local and live-in staff are all clean, sober, and committed to the recovery of our clients. From beach trips, nights out for dinner, movies and concerts, Grace Bay creates a different type of sober living.
For more information, visit: http://www.gracebayresidence.com.
About Innovations and DMG Productions:
Innovations, hosted by award winning actor Ed Begley, Jr., is an information-based series geared toward educating the public on the latest breakthroughs in all areas of society. Featuring practical solutions and important issues facing consumers and professionals alike, Innovations focuses on cutting-edge advancements in everything from health and wellness to global business, renewable energy, and more.
DMG Productions (responsible for creating the Innovations show) includes personnel specialized in various fields from agriculture to medicine, independent films to regional news and more. Field producers work closely with experts in the field to develop stories. This powerful force enables DMG to consistently produce commercial-free, educational programming that both viewers and networks depend on.
For more information visit: http://www.InnovationsTelevision.com or contact Jake Meiteles at: (866) 496-4065 x 830 or via email at: Jake(at)InnovationsTelevision(dot)com.