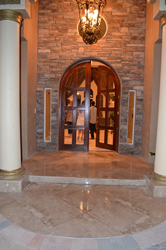 We trusted Boral to deliver sample mortar panels for our showroom and the custom orders for the project on time and under budget.
ROSWELL, Georgia (PRWEB) September 29, 2015
Cultured Stone® by Boral®, the industry leader in manufactured stone veneers, was recently specified for a home renovation project featured on DIY Network's The Vanilla Ice Project, where it was used for interior and exterior applications. Boral worked closely with Oldcastle Coastal to supply Cultured Stone® veneers for the home, located on the Intracoastal Waterway in West Palm Beach.
Now in its fifth season, the show follows '90s music icon Rob VanWinkle (Vanilla Ice) and his champagne tastes through a series of tough home improvement projects on tight deadlines. For this project, VanWinkle scheduled a tour of Oldcastle Coastal's new, 10,000-square-foot showroom in Pompano Beach to select cladding products. Ultimately, Cultured Stone® by Boral® Sevilla™ Country Ledgestone was chosen for the front exposure of the home; and Chardonnay Pro-Fit® Alpine Ledgestone for the interior kitchen, bedrooms, outdoor barbecue, and even wrapped around a jellyfish tank visible from the living room and kitchen.
"Rob prefers using the latest and greatest building materials, and also has to complete the projects with very short lead times," said Patrick Knapik, Regional Sales Representative at Oldcastle Coastal. "Through our exclusive relationship with Boral, we knew Cultured Stone® would be a perfect match for Rob's individual design tastes. More importantly, we trusted Boral to deliver sample mortar panels for our showroom and the custom orders for the project on time and under budget."
Once the Cultured Stone® products were specified, Boral had only five weeks to manufacture and ship the custom orders from its Napa Valley, California plant to the job site in Florida. Fortunately, great communication internally and with Oldcastle helped streamline the process. Boral worked diligently to complete the order ahead of the standard schedule, ensuring installation would be simple and hassle-free.
"We've been thrilled to be involved in The Vanilla Ice Project, which never would have happened without Oldcastle Coastal's detailed knowledge of Cultured Stone® by Boral products," said Chad Tennant, Area Sales Manager representing Cultured Stone® by Boral and Boral Bricks. "This was a challenging project in terms of strict deadlines and turnaround times, but our customer service and logistics teams did everything behind the scenes to make it a success."
VanWinkle was ecstatic about the finished product, which is currently expected to sell for approximately $3 million. Not only was the Cultured Stone® delivered in time, but it also fit the glamorous design style of The Vanilla Ice Project to the letter. From the authentic textures and shapes of Sevilla™ Country Ledgestone, to the rustic outdoor look of Pro-Fit® Alpine Ledgestone on the home's interior, the renovated home now has a flair all its own.
To learn more about Boral's comprehensive portfolio of brick, stone, roofing, trim and siding options, visit http://www.BoralAmerica.com. For more information about Oldcastle Coastal, visit http://oldcastlecoastal.com/.
###
About Boral USA
Headquartered in Roswell, Georgia, Boral USA, through its subsidiaries, is a leading manufacturer in the building materials industry. Boral USA's subsidiaries include Boral Bricks Inc., a leading manufacturer of brick in the United States; Boral Roofing LLC, the nation's leading manufacturer of clay and concrete roof tiles; Boral Stone Products LLC, manufacturer of Cultured Stone® by Boral®, the most recognized brand of manufactured stone veneer, and Boral Versetta Stone®, the leading brand of mortarless manufactured stone veneer panels; Boral Material Technologies LLC, a leading marketer of coal combustion byproducts; and Boral Composites Inc., manufacturer of Boral TruExterior™ Siding and Trim, pioneer of the innovative poly-ash category of exterior building products.