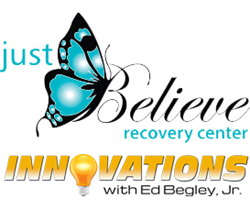 Jensen Beach, FL (PRWEB) October 02, 2015
Just Believe Recovery Center announced today that it will be featured in an upcoming episode of Innovations, airing later this year 2015 via the Discovery Channel.
Just Believe is a detox and residential drug & alcohol addiction treatment center that offers personalized treatment options to individuals dealing with drug and alcohol treatment. In this segment, viewers will learn about Just Believe's unique approach and ability to diagnose and treat addiction and mental health disorders.
Audiences will learn how by utilizing the integrative and personalized approach to addiction treatment, Just Believe has helped many individuals create stepping-stones toward addiction recovery.
"Just Believe Recovery is very excited to be participating in the innovations TV Series," said George Edmunds, Director of Operations, South Florida Just Believe facility. "It is important to get the word out about the addiction epidemic, and would like to share our message that recovery is possible for everyone. In addition, we look forward to teaching about our program and how the lives of our residents have been affected as a result."
"Just Believe has it possible to move forward with the stepping stones necessary to achieve sobriety," said Jake Meiteles, Producer for the Innovations series. "We look forward to sharing this information with our viewers in hopes it will help others."
About Just Believe:
Treatment at Just Believe combines, holistic healing with evidence based therapies and practices. Individual counseling, group therapy, art therapy, pyscho – educational groups and recreation therapy are all used in an effort to teach clients about their addiction as well as to address the mental health issues that may be standing in the way of recovery
Therapy techniques include cognitive behavioral therapy (CBT), dialectical behavior therapy (BDT ) forgiveness therapy and EMDR ( eye movement desensitization and reprocessing ) Residents are also taken to 1`2 step meetings outside the facility and are encouraged to begin working the 12 steps of Alcoholics Anonymous and Narcotics Anonymous
Family is considered an essential component of ongoing recovery – within the first week of treatment each client's primary therapist reaches out to establish and maintain contact with extended family. Toward the end of treatment, family sessions are increased to help both parties prepare for the residents return. For more information, visit: http://www.justbelieverecovery.com.
About Innovations and DMG Productions:
Innovations, hosted by award winning actor Ed Begley, Jr., is an information-based series geared toward educating the public on the latest breakthroughs in all areas of society. Featuring practical solutions and important issues facing consumers and professionals alike, Innovations focuses on cutting-edge advancements in everything from health and wellness to global business, renewable energy, and more.
DMG Productions (responsible for creating the Innovations show) includes personnel specialized in various fields from agriculture to medicine, independent films to regional news and more. Field producers work closely with experts in the field to develop stories. This powerful force enables DMG to consistently produce commercial-free, educational programming that both viewers and networks depend on.
For more information visit: http://www.InnovationsTelevision.com or contact Jake Meiteles at: (866) 496-4065 x 830 or via email at: Jake@InnovationsTelevision.com.