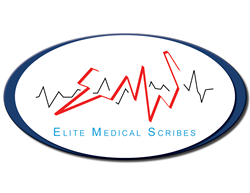 The Elite Medical Scribes ICD-10 Code Look-up tool will ensure no disruptions or slowdowns of documentation, workflow or patient interactions
Minneapolis, MN (PRWEB) September 30, 2015
Elite Medical Scribes, LLC, the nation's highest quality medical scribe provider, announced today the release of its free ICD-10 Code software lookup tool for medical scribes and their physician partners.
To assist medical scribes in hospitals and clinics, Elite Medical Scribes' new ICD-10 Lookup tool allows scribes to quickly find precise ICD-10 codes within 5-10 seconds- the fastest search in the industry. The tool provides additional search and drill down capability to identify the correct ICD-10 code from over 69,000 unique codes. The tool is available online and is a cloud-based, software-as-service application. All Elite Medical Scribe employees have been trained on the tool and are ready to help doctors with the Oct. 1st ICD-10 coding transition.
Adam Okeson, Elite Medical Scribes Director of Clinical Product Development, said, "Having this fantastic tool available for medical scribes will allow doctors to provide exact ICD-10 codes for medical record documentation, while minimizing the risk of losing any reimbursement for upcoding or downcoding situations."
"With the looming ICD-10 deadline coming October 1st, 2015, we felt that giving our medical scribes and their physician clients a free tool to help with the transition was in the best interest of everyone," said Yuriy Vasylenko, CEO, Elite Medical Scribes. "The Elite Medical Scribes ICD-10 Code Look-up tool will ensure no disruptions or slowdowns of documentation, workflow or patient interactions."
About Elite Medical Scribes
Elite Medical Scribes is the nation's preeminent provider of the highest quality medical scribe services. Our programs lead to increased clinician productivity, enhanced patient care quality, accurate real-time data entry, reduced documentation time, and increased clinician and patient satisfaction. The Elite Difference is found through providing client focused solutions, proven value, and a trusted partnership. With nationwide coverage and a focus on all medical specialties, Elite Medical Scribes is the premier scribe management program for hospitals, independent clinics and large healthcare systems.
Elite Medical Scribes, LLC. All rights reserved.
Website: http://www.elitemedicalscribes.com
###