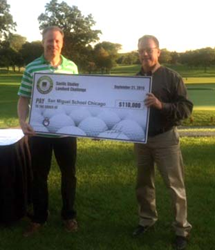 Even up to the moment I was walking out to my car to leave, a gentleman ran up behind me, handed me a personal check and thanked me for the work we do at San Miguel.
Chicago, IL (PRWEB) September 30, 2015
Global commercial real estate services firm Savills Studley is pleased to announce that it raised over $110,000 for San Miguel School Chicago at its 10th Annual Landlord Challenge Golf Tournament. The event took place at the Northmoor Country Club and was hosted by Savills Studley Executive Vice President, John Goodman.
"Overall, it was a perfect day of golf and philanthropy," remarks Goodman, who began the event 10 years ago, as part of Savills Studley's commitment to bettering the community and serving the needs specifically of underprivileged children. "The participation from the real estate community is just incredible and a true testament to our ability to make a significant difference within our community."
According to this year's event chair and Senior Managing Director at Savills Studley, John Conerty, the monies raised will go directly to San Miguel School Chicago, which serves academically high-risk students who are below their grade level and are living in the poor and violent neighborhoods of Chicago. The program helps each student to not only catch-up to their grade level, but in certain cases students in fact excel beyond their grade level.
"I was truly touched by the outpouring of enthusiasm and generosity that resulted from this year's Landlord Challenge, which will contribute to providing the students of San Miguel School Chicago new hope through education, commitment and love – the three concepts the school is built around" said Conerty, who is Board Chairman of San Miguel School Chicago and has volunteered as a mentor with the organization for over 15 years. "We are honored to present San Miguel School Chicago with additional support for their remarkable cause."
San Miguel School Chicago ensures that every student attends a quality high school and approximately 92% graduate from high school within 4 years. Approximately 80% attend college. Those that do not go to college either join the military or enter the work force.
"These statistics are quite remarkable, considering that 100% of the students enrolled are often likely high school dropouts," added Conerty, who presented the check to Principal/Executive Director, Tad Smith (pictured).
"The spirit of the day was a great combination of fun and good will," said Smith. "More than a few times I heard the rhetorical question, 'it's for the kids, right?,' as good natured ribbing in hopes of motivating a buddy to compete in one of the pay-to-play challenges, or donate winnings back to the school."
In fact, both the first and second place raffle winners – Mitch Basson of RBC Capital Markets and Matt Pistoria with the Telos Group – donated their prizes back to the charity. John Picchiotti of NAI Hiffman donated his earnings as a contest winner back to the charity as well.
"On behalf of the students and families of San Miguel School, I would like to offer a big thanks to Savills Studley and all who participated and donated to this year's event," remarked Smith. "I was really impressed by the generosity of the participants throughout the day. Even up to the moment I was walking out to my car to leave, a gentleman ran up behind me, handed me a personal check and thanked me for the work we do at San Miguel."
Nearly 120 golfers participated in the challenge, consisting of property owners and leasing teams from Chicago. A team from Golub & Co. won first place and Tier Reit (Cushman & Wakefield) came in second place, both receiving trophies. The main sponsors were Savills Studley, Piedmont, John Hancock, Commonwealth Equity, The John Buck Company, The Telos Group and Riverside Investment & Development Company.
Conerty and Goodman led the efforts with the help of Savills Studley's Landlord Challenge Committee alongside Maria Jens-Kerr, who has been passionately committed to the event since its inception. Other committee members include Chris Tarzon, Patrick Brady, Peggy Conway, Eric Feinberg, Mike Mangan, Jonathan Metzl, Adam Mitchell, Loredana Perri and Rich Plonsker.
About San Miguel School Chicago
San Miguel positions itself to achieve and steward a strong and sustainable financial foundation by building appropriate reserves and diverse revenue streams to ensure its future viability. San Miguel School serves students who are academically at-risk and whose families are economically disadvantaged. San Miguel relies almost entirely on community support and donations to operate while currently serving 90 middle school students, over 120 graduates, and over 600 family members. The mission of San Miguel School is to transform the lives of our students, their families and communities through education, by touching hearts and inspiring minds. San Miguel delivers diverse, exceptional, high quality, and a comprehensive educational program for the under-served meeting recognized standards of excellence, and promotes and sustains a vibrant relationship between the school and society.
About Savills Studley
Savills Studley is the leading commercial real estate services firm specializing in tenant representation. Founded in 1954, the firm pioneered the conflict-free business model of representing only tenants in their commercial real estate transactions. Today, supported by high quality market research and in-depth analysis, Savills Studley provides strategic real estate solutions to organizations across all industries. The firm's comprehensive commercial real estate platform includes brokerage, project management, capital markets, consulting and corporate services. With 25 offices in the U.S. and a heritage of innovation, Savills Studley is well known for tenacious client advocacy and exceptional service.
The firm is part of London-headquartered Savills plc, the premier global real estate service provider with over 27,000 professionals and over 600 locations around the world. Savills plc is listed on the London Stock Exchange (SVS.L).
For more information, please visit http://www.savills-studley.com and follow us on Twitter @SavillsStudley and LinkedIn.
# # #