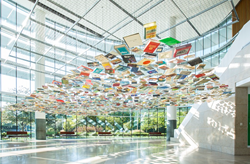 INDIANAPOLIS (PRWEB) October 01, 2015
The Indianapolis Museum of Art has debuted renowned sculptor Richard Wentworth's largest site-specific installation in North America.
Richard Wentworth: False Ceiling—Indianapolis now welcomes guests as they enter the Museum's Efroymson Family Entrance Pavilion. The large-scale work is Wentworth's most ambitious installation to date—the only other of comparable size is a permanent commission at the Istanbul Museum of Modern Art. However, unlike that work, the Indianapolis installation provides two unique viewpoints from both the first and second floors of the Pavilion.
Often described as an alchemist of everyday things, Wentworth is known for transforming familiar matter into visual poetry. His book installations alter the appearance and meaning of his chosen site with beauty, invention and humor. Such works play on the nature of the book as a commonplace object yet powerful symbol of knowledge and culture, in both modern society and throughout history.
"When I had the chance to see Richard's installation in Istanbul a few years ago, I was impressed by its engaging visual presence and its successful marriage with the surrounding architecture," said Tricia Y. Paik, the IMA's curator of contemporary art. "Richard has been able to achieve a similar result here, instead deploying the distinct spatial dynamics of our oval-shaped pavilion on two levels."
False Ceiling—Indianapolis is made of books collected from a public book drive held over the summer. The two-month community drive was conducted in partnership with Indy Reads Books, and donation boxes were available at the Museum and Indy Reads Books on Massachusetts Avenue.
Paik continued, "This work is also Richard's first book installation for which all the volumes were donated by the public. It's truly meaningful that our community played such an integral part in the creation of this work." Furthering this community involvement, sculpture students from Indiana University–Purdue University Indianapolis' Herron School of Art and Design assisted Wentworth and his studio team in assembling the work.
Interactive activities accompany the exhibition, including an opportunity for visitors to guess how many books were used to create the sculpture for a chance to win a prize. Guests can also vote for their favorite book genre and learn the favorite genres of IMA staff members.
This exhibition is made possible by The Efroymson Contemporary Art Fund, an endowed fund at the IMA that was established in 2006 by the Efroymson Family Fund to support work by emerging and established local, national and international contemporary visual artists through a rotating installation program in the Efroymson Family Entrance Pavilion. Past artists and collectives whose work has been supported by the Fund include Allora & Calzadilla, Ball-Nogues Studio, Tony Feher, Friends with You, Orly Genger, William Lamson, Judith G. Levy, Mary Miss, Julian Opie, Heather Rowe, Alyson Shotz, Julianne Swartz, Spencer Finch, Sopheap Pich and Erwin Wurm.
The work is on display through June 5, 2016.
About Richard Wentworth
In the late 1970s, Richard Wentworth emerged as one of the main figures of the New British Sculpture movement. As both an artist and teacher, Wentworth has greatly informed successive artistic generations. Born in 1947 in Samoa, Wentworth attended the Royal College of Art in London from 1966-70 and taught at Goldsmith's College from 1971-87. In 2002 he became Master of Drawing at the Ruskin School of Drawing and Fine Art, Oxford University, and in 2009 was appointed Professor and Head of the Royal College of Art's Sculpture Department, London. In 2011 Wentworth was appointed Commander of the Order of the British Empire (CBE). The artist lives in London, England, and is represented by Peter Freeman, Inc., New York and Paris, and Lisson Gallery, London.
Major solo presentations include Black Maria with Gruppe, Kings Cross, London (2013); Whitechapel Gallery, London (2010); Tate Liverpool (2005); Artangel, King's Cross, London (2002); Bonner Kunstverein, Bonn, Germany (1998); Musée des Beaux-Arts et de la Dentelle, Calais, France (1994); Serpentine Gallery, London (1993). Group exhibitions include the 50th and 52nd Venice Biennale (2003, 2009); the Tate Modern, London (2005); São Paulo Biennial, Brazil (2002); Serpentine Gallery, London (1995), among many others. His work is featured in many international museums, such as Tate Britain, London, England; Centro Cultural Arte Contemporaneo, Mexico; Auckland City Art Gallery, New Zealand; Irish Museum of Modern Art, Dublin, Ireland; Yorkshire Sculpture Park, England; Rhode Island School of Design, Museum of Art, Rhode Island; and the Istanbul Museum of Modern Art, Turkey.
About the Indianapolis Museum of Art
The Indianapolis Museum of Art (IMA) is located on a 152-acre campus of lush gardens, historic homes, outdoor sculptures, inspiring performance and gallery spaces. Founded in 1883, the IMA is among the 10 oldest and 10 largest encyclopedic art museums in the United States and features significant collections of African, American, Asian, European, contemporary art and design arts that span 5,000 years of history. With innovative programming to engage guests of all ages, the IMA offers a variety of interactive experiences inside the galleries, throughout the campus and within the local community. From gardening demos in the Madeline F. Elder Greenhouse to outdoor film screenings in the IMA Amphitheater to community celebrations in The Virginia B. Fairbanks Art & Nature Park: 100 Acres, guests are invited to interact with art and nature in exciting new ways at the IMA. Along with the Indianapolis campus, the IMA also owns the Miller House and Garden in Columbus, Ind., one of the nation's most highly regarded examples of mid-century Modernist residences. For more information visit http://www.imamuseum.org.
About the Efroymson Family Fund
The Efroymson Family Fund, a donor-advised fund of the Central Indiana Community Foundation, continues a long legacy of charitable commitment by the Efroymson family in central Indiana. The Efroymson Family Fund was established in 1998 by Dan and Lori Efroymson to promote the viability of communities and to date has awarded more than $80 million in grants in central Indiana and beyond. For more information about the Efroymson Family Fund, visit cicf.org.
###