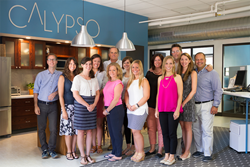 Calypso owes its success to a dedicated team and fantastic clients. We thrive on serving as an extension of our clients' organizations.
Portsmouth, N.H. (PRWEB) September 30, 2015
Calypso Communications, an integrated, full-service public relations, marketing, and creative design firm, recently moved to a larger location in downtown Portsmouth and launched a new website – all while commemorating 15 years in business.
Founded in 2000, Calypso is led by Founder Kevin Stickney and Managing Partner Houssam Aboukhater. The original team of two has grown to 15 creative communications professionals as both owners anticipate continued growth.
Stickney is proud of what the agency has accomplished leading up to this milestone anniversary. "Calypso owes its success to a dedicated team and fantastic clients. We thrive on serving as an extension of our clients' organizations. The past 15 years have been challenging, but we've remained a go-to resource for tackling complex issues in wide-ranging industries, driving clients' businesses by creating clear messages and compelling stories."
Rooted in energy and private equity work in the early days of the agency, Calypso has expanded its services to clients across a range of local, national, and global industries to include healthcare, hospitality, education, and non-profit organizations. Prominent recent and ongoing client engagements include Unitil, Shields Health Care Group, Exeter Hospital, Iberdrola, Babcock Power, Phillips Academy, Waterville Valley, and ArcLight Capital.
In the midst of a busy summer, Calypso Creative Director Mike Teixeira led a refresh of the agency website. "With the office move and anniversary approaching, it was an opportune time to create a new look and feel for our digital real estate. The website features user-friendly navigation, an in-depth explanation of services, and a more personal introduction to our entire team. We also continue to add downloadable marketing resources to help our clients face daily communications challenges."
Founded chiefly as a strategic PR and communications firm, Calypso has adapted to a changing marketing and business development landscape. While the agency still offers PR services, its strategists, content developers, and designers also employ sophisticated inbound marketing tactics for clients. Inbound marketing, grounded in strategies that draw consumers in – versus more traditional, "interruptive" techniques – is a natural fit with Calypso's team talents.
"We've found many of our customers are interested in (and can get results from) telling great stories about what they do and the problems they solve for their customers, instead of pushing out unsolicited, easily ignored information," said Aboukhater. "Calypso's designers, writers, and strategists excel in executing the messaging, content creation, and creative strategies that fuel an inbound marketing engagement."
The firm's new location at 20 Ladd Street positions Calypso to serve clients while cultivating agency growth. Designed by DeStefano Architects, the office reflects the agency's collaborative work style and incorporates the unique character of historic Market Square.
About Calypso Communications
Based in Portsmouth, N.H., Calypso Communications is a premier, award-winning strategic marketing, corporate communications, and business development consultancy. Highly sought after for its seasoned insight and perspective, Calypso effectively engages stakeholders crucial to driving business and value for clients in the energy, environmental, healthcare, and technology industries. For more information, visit http://www.calypsocom.com.
###