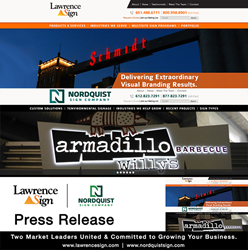 Like working with our team, the new website provides a premium user experience.
St. Paul, MN (PRWEB) September 29, 2015
The new websites provide a state-of-the-art user experience featuring improved navigation and organization.
Both websites include a fresh, modern design compatible with today's browsers. Programming was executed using a responsive platform to seamlessly render across desktop, tablet and mobile devices. With one click, users can easily follow menu prompts and quickly navigate to the information they're looking for.
The company followed the 80/20 rule placing content primarily searched front and center of the website. Each site boasts a classic funnel approach starting with top-level information and providing detail for each of the broad services and products Lawrence Sign and Nordquist Sign deliver.
"The website re-design was carefully crafted," said CEO Robb Walker. "We are a vertically integrated sign manufacturer and the new website reflects our design, fabrication and installation expertise in the sign industry. Like working with our team, the new website provides a premium user experience."
The new website contains useful information such as current projects and an interactive quote request. The portfolio section boasts hundreds of images for viewers to peruse. It provides ample idea generators.
About Lawrence Sign & Nordquist Sign
For more than 80 years, Lawrence Sign has been assisting prominent companies to grow with new locations coast to coast with their multi-site sign program. Lawrence Sign proactively manages every aspect of their customers' sign programs including design, regulatory compliance, fabrication and installation and ongoing maintenance.
Lawrence Sign utilizes advanced technologies and expansive facilities to provide direct in-house control of the entire sign fabrication process. The Company excels at serving companies with a multi-site national and international presence.
Nordquist Sign has been fabricating and installing interior and exterior signage, architectural elements and way-finding signage for more than 100 years. Nordquist's customer base and scope of work includes custom signage and environmental graphics for hospitals, sports facilities, themed entertainment, corporate/financial and mass transit industries. Nordquist Sign also maintains a gaming division with offices in Las Vegas, NV and St. Paul, MN to serve casino gaming markets throughout the United States.
In early 2012, Lawrence Sign combined with Nordquist Sign to unite the unique resources and capabilities of the two companies. Together, Lawrence Sign and Nordquist Sign offer their clients more than 175 years of experience in sign manufacturing and installation for all facets of the signage industry.