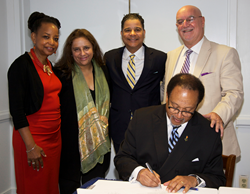 New York, NY (PRWEB) September 30, 2015
Refuel Agency, a leader in youth, military and multicultural marketing and media placement, along with the National Newspaper Publishers Association (NNPA) and National Association of Hispanic Publishers (NAHP) today announced the formation of a National Advertising Task Force to educate marketers on the benefits and importance of the African American and Hispanic newspaper market. Both boards of directors unanimously agreed to this historic alliance. This is the first time the NNPA and NAHP have joined forces for such an effort.
The NNPA, the leading trade association of the more than 200 African American-owned community newspapers from around the United States, along with the NAHP, a non-partisan trade advocacy organization representing the nation's leading Spanish language publications, have a combined total reach of over 43 million readers per week.
Contrary to general market daily newspapers, African American and Hispanic newspapers are on the rise and thriving and, for the last 100 years, have been the trusted voice of their respective communities. The task force will be in charge of increasing awareness and advertising for member newspapers and will be meeting with major auto, financial and political advertisers in the coming months.
"With close to 97 million African Americans and Hispanics in the U.S. today, representing 33% of the total population, this consumer segment demands attention," said Martha Montoya, VP of the NAHP. "The buying power of the African American and Hispanic communities, currently at over $2.3 trillion combined, continues to outpace the national average."
"This historic media alliance is a gigantic step for our organizations," said Dr. Benjamin Chavis, President and CEO of the NNPA. "We believe our working together has tremendous potential mutual benefits in today's marketplace."
"This task force also marks a historic partnership between the NNPA and NAHP, the nation's most influential publishing organizations that are currently led by women. Martha and I have a shared vision and commitment to empower our communities by strengthening the voices of the media we serve," said NNPA Chair Denise Rolark Barnes.
Refuel Agency will officially spearhead centralized advertising efforts on behalf of NNPA and NAHP. "We are thrilled to be a part of this initiative to bring one united voice to this very important mission. With African American and Hispanic populations continuing to surge, it is the perfect time to promote the importance of reaching these communities and consumers," said Derek White, President and CEO of Refuel Agency.
To advertise, or for more information, please contact Greg Anthony, EVP National Sales Manager at 805.690.7011 or ganthony(at)refuelagency(dot)com
ABOUT REFUEL AGENCY
Refuel Agency is a leading marketing firm connecting a wide range of brands with niche consumer segments through scalable and impactful media and promotional solutions including social, mobile, digital, print, place-based and experiential. With decades of expertise serving youth, military, multicultural and local audiences, Refuel Agency deploys brand campaigns that speak to these consumers in their world, throughout their day. The business was formerly a central part of Alloy Media + Marketing. Refuel Agency has locations nationwide, with headquarters in New York City, and offices in Chicago, Los Angeles, Santa Barbara, CA, and Princeton, NJ.
To learn more visit http://refuelagency.com/
ABOUT THE NATIONAL NEWSPAPER PUBLISHERS ASSOCIATION
NNPA is a trade association of the more than 200 African American-owned community newspapers from around the United States. Since its founding 75 years ago, NNPA has consistently been the voice of the black community and an incubator for news that makes history and impacts our country. As the largest and most influential Black-owned media resource in America, NNPA delivers news, information and commentary to over 20 million people each week. Americans from all backgrounds seek news from the Black perspective from the NNPA member newspapers around the country. In America, now among the most diverse countries in the world, the Black Press of America is more relevant than ever.
To learn more visit http://nnpa.org/
ABOUT THE NATIONAL ASSOCIATION OF HISPANIC PUBLICATIONS
The National Association of Hispanic Publications is a non-partisan trade advocacy organization representing the leading Spanish language publications serving 41 markets in 39 states, the District of Columbia and Puerto Rico, with a combined circulation of over 23 million.
To learn more visit http://nahp.org/