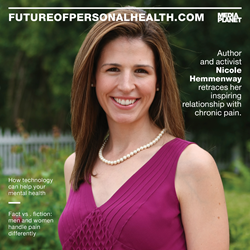 Currently 100 million Americans are suffering from chronic pain (more than heart disease, cancer and diabetes combined).
New York, NY (PRWEB) September 29, 2015
Currently 100 million Americans are suffering from chronic pain (more than heart disease, cancer and diabetes combined). Pain without a known cause can often be stigmatized and society lacks an understanding toward chronic pain. With more than 3 million cases each year, this campaign aims to shed light on innovations in treatment, readily available therapies and resources in an effort to bring awareness and help our readers battling chronic pain to live a more fulfilling life.
The print component of "Chronic Pain" is distributed within this week's edition of USA Today in New York, Los Angeles and Washington D.C. with a circulation of approximately 250,000 copies and an estimated readership of 750,000. The digital component is distributed nationally, through a vast social media strategy, and across a network of top news sites and partner outlets. To explore the digital version of the campaign, click here.
This edition of "Chronic Pain" was made possible with the support of Garden Acupuncture. Garden Acupuncture, located in the beautiful neighborhood of Park Slope, Brooklyn, offers the authentic and ancient practice of Traditional Chinese Medicine to modern families. Family owned and operated, the nationally board certified practitioners of Garden Acupuncture have over 40 years of combined clinical experience and are dedicated to making this unique healing option more accessible than ever with extended office hours and participation in many insurance companies.
When dealing with chronic pain, it is essential to know all the pain relief options that are available. Acupuncture has been shown to not only reduce pain but also help you cope with stress and improve your emotional and physical well-being. Not only have Garden Acupuncture's practitioners witnessed the profound pain relief acupuncture provides in clinical practice, but it is supported in their many 5-star reviews and is well documented in studies that acupuncture absolutely helps reduce symptoms of chronic pain regardless of its cause. They invite those that are suffering to choose this old wisdom to help put them on a new path toward a pain-free life.
This campaign was made possible with the support of The American Chronic Pain Association, The International Neuromodulation Society, The Men's Health Network and many more.
About Garden Acupuncture
Garden Acupuncture is a family-run, small business in the heart of Park Slope. They pride themselves on individualized, full length affordable treatments and are committed to offering the best holistic care to the local community. Garden Acupuncture advises each patient with Traditional Chinese Medicine, which includes acupuncture, dietary and lifestyle changes, herbs and other adjunct therapies which they implement to regain and maintain the balance of their patients' health. Garden Acupuncture specializes in Pain Relief, Sleep Conditions, Anxiety & Stress, Skin Issues and Fertility. They also accept insurance.
About Mediaplanet
Mediaplanet is the leading independent publisher of content-marketing campaigns covering a variety of topics and industries. We turn consumer interest into action by providing readers with motivational editorial, pairing it with relevant advertisers and distributing it within top newspapers and online platforms around the world.
Press Contact:
Jory Beer
Senior Publisher
Jory(dot)beer(at)mediaplanet(dot)com
646-755-7955
Elide Bell
Chief Marketing Officer
Elide(at)gardenacu(dot)com
516-589-9178