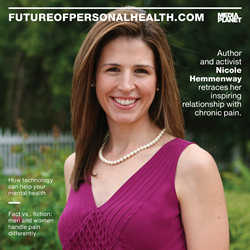 Chronic pain sufferers feel unsupported and discouraged about all they have lost due to chronic pain
New York, NY (PRWEB) September 29, 2015
Currently, 100 million Americans are suffering from chronic pain (more than heart disease, cancer and diabetes combined). Pain without a known cause can often be stigmatized and society lacks an understanding toward chronic pain. With more than 3 million cases each year, this campaign aims to shed light on innovations in treatment, readily available therapies and resources in an effort to bring awareness and help our readers battling chronic pain to live a more fulfilling life.
The print component of "Chronic Pain" is distributed within this week's edition of USA Today in New York, Los Angeles and Washington D.C., with a circulation of approximately 250,000 copies and an estimated readership of 750,000. The digital component is distributed nationally, through a vast social media strategy, and across a network of top news sites and partner outlets. To explore the digital version of the campaign, click here.
This edition of "Chronic Pain" was made possible with the support of HELP Medical Pain Network. Often, chronic pain sufferers feel unsupported and discouraged about all they have lost due to chronic pain. HELP creates new perspectives by teaching pain sufferers how to regain control of their lives, rather than promising cures. With the support of a bi-lingual team of expert medical, psychological and rehabilitative pain specialists, patients learn to set real life goals that enable them to regain independence from the limitations caused by their chronic pain. Patients experience meaningful improvements in their work, family, and social lives. Learning to achieve goals, and setting new goals to continuously improve the quality of life, is a key to managing chronic pain.
This campaign was also made possible with the support of The American Chronic Pain Association, The International Neuromodulation Society, The Men's Health Network and many more.
About HELP Pain Medical Network
The HELP Pain Medical Network operates interdisciplinary pain treatment centers, utilizing telemedicine to assist patients and healthcare providers across the country. The HELP Pain Medical Network utilizes the Health Education for Living with Pain curriculum that focuses on improving functional outcomes. HELP Pain Medical Network was founded by Dr. William G. Brose, founder and previous Director of the Stanford University Hospital Pain Service, and a pioneer in the establishment of Chronic Pain management best practices.
About Mediaplanet
Mediaplanet is the leading independent publisher of content-marketing campaigns covering a variety of topics and industries. We turn consumer interest into action by providing readers with motivational editorial, pairing it with relevant advertisers and distributing it within top newspapers and online platforms around the world.
Press Contact:
Jory Beer
Senior Publisher
Jory(dot)beer(at)mediaplanet(dot)com
646-755-7955
HELP Medical Pain Network press contact
Julie Carey Josefsberg
press(at)livewithchronicpain(dot)com
650-645-1108