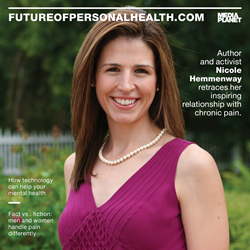 You still control how you cope with the pain. Becoming empowered and involved is key to taking control of your pain and living a proactive, fulfilling life again
New York, NY (PRWEB) September 29, 2015
Pain without a known cause can often be stigmatized in a society lacking awareness or understanding of chronic pain or its sufferers. As more than 3 million new cases are identified each year, this campaign aims to shed light on innovations in treatment, readily available therapies and resources to bring awareness and help our readers battling chronic pain to live a more fulfilling life.
The print component of "Chronic Pain" is distributed within this week's edition of USA Today in New York, Los Angeles and Washington D.C., with a circulation of approximately 250,000 copies and an estimated readership of 750,000 copies. The digital component is distributed nationally, through a vast social media strategy, and across a network of top news sites and partner outlets. To explore the digital version of the campaign, click here.
Nicole Hemmenway, Vice President at U.S. Pain Foundation, Director of the INvisible Project and author, graces the cover of the print publication. Through an exclusive interview on the interior, Nicole opens up about advocating for greater awareness surrounding chronic pain as it has personally affected her throughout her life. Nicole shares, "You still control how you cope with the pain. Becoming empowered and involved is key to taking control of your pain and living a proactive, fulfilling life again".
This campaign was made possible with the support of the American Chronic Pain Association, Men's Health Network, The International Neuromodulation Society, HELP Pain Medical Network, The Acetaminophen Awareness Coalition, Garden Acupuncture, PixarBio, Dolphin Products, Virtual Ability, Interaxon, TriggerPoint and many more.
About Mediaplanet
Mediaplanet is the leading independent publisher of content-marketing campaigns covering a variety of topics and industries. We turn consumer interest into action by providing readers with motivational editorial, pairing it with relevant advertisers and distributing it within top newspapers and online platforms around the world.
Press Contact:
Jory Beer
Jory.beer(at)mediaplanet.com
646-755-7955